Middle-Limburg: Designer shopping with added Rembrandt
Text: Arne Adriaenssens | Photos © Limburg Marketing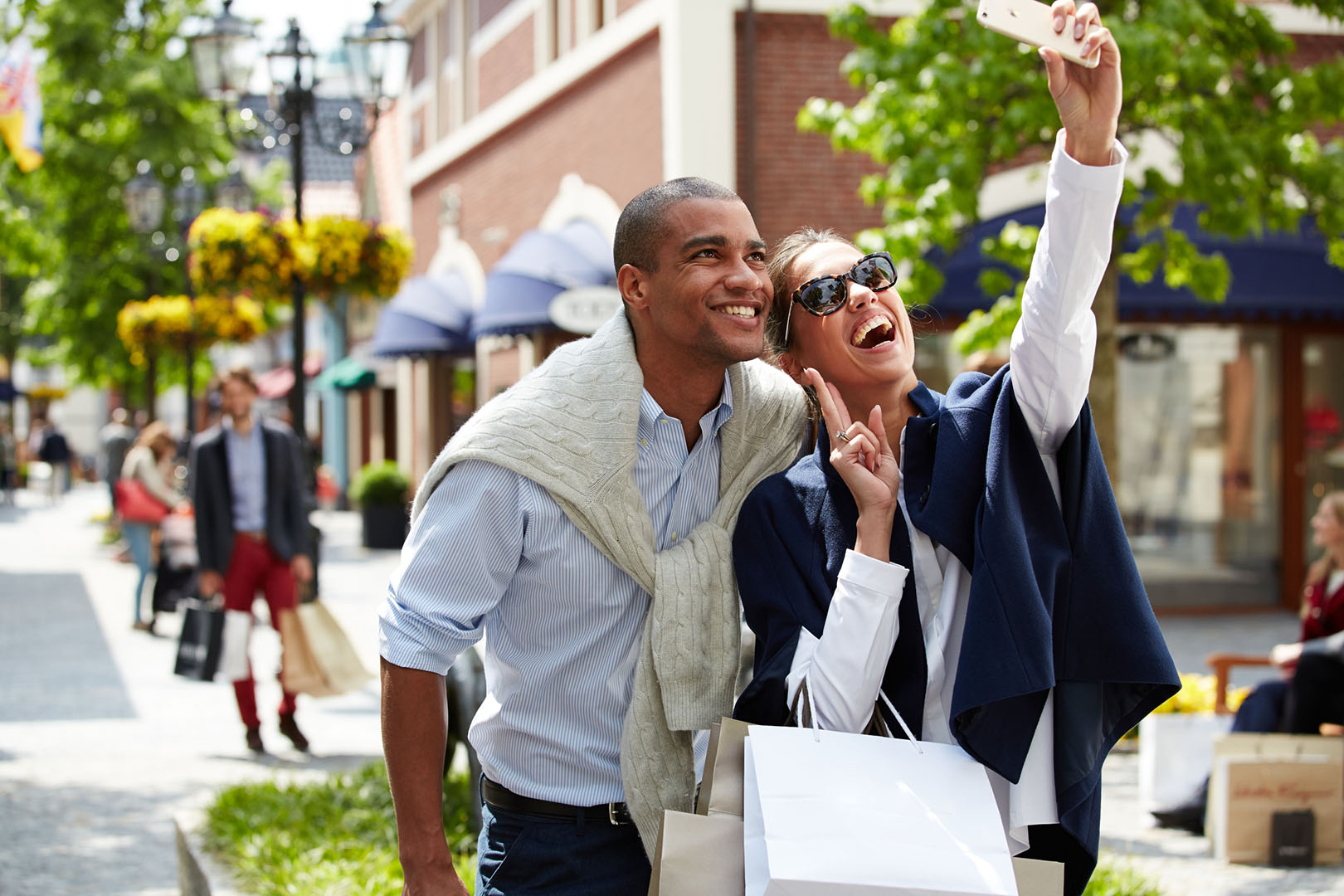 To honour the 350th anniversary of Rembrandt van Rijn's death, the Netherlands serves as the backdrop for commemoration activities galore this year. Yet, few are as spectacular as what they are doing at the Designer Outlet Roermond. Besides travelling to the Dutch Golden Age in virtual reality or awakening your inner-Rembrandt in the crafts studio, one lucky shopper will go home with an original work by the grandmaster himself.

"Designer Outlet Roermond is a must for many tourists visiting the Netherlands," explains Giel Polman, director of Limburg Marketing. "Annually, we welcome eight million eager shoppers in our region to spoil them with high-end brands like Prada, Burberry, Gucci and Hugo Boss. As an outlet, they can offer prices which are way lower than anyone else. In their adorable setting, you can buy yourself that perfect purse or suit for just a fraction of the price."
This year, however, there will be much more to do than just shopping. During Loving Rembrandt, a series of activities revolving around Rembrandt Van Rijn and his oeuvre, the cosiest shopping street of Limburg takes you back to the days of yore. "In the pop-up virtual reality exhibition, you can enter Rembrandt's atelier while he is working on his most celebrated work: The Night Watch. As a fly on the wall, you witness a conversation between him and his sponsor about this iconic work."
Young and old can also express themselves in the co-creation studio and paint their own masterpiece; with just a little help from the Dutch master. If painting isn't your biggest talent, you can attend an etching workshop and carve your way to the top. "Many more exciting activities will be announced during the coming months, so make sure you keep an eye on the website of Marketing Limburg or Designer Outlet Roermond."
Win a Rembrandt
This biggest of all attractions, however, is the exhibition of an original etching by Rembrandt in the middle of the shopping centre. On it, he and his wife, Saskia, are portrayed alongside each other. "Although Rembrandt made multiple self-portraits and portraits of his wife, this etching is the only piece featuring both of them. It shows how much he adored her and how proud he was of her." But the best is yet to come: the etched love story from the Rembrandts is not only on display to look at, but it is also the grand prize in a dazzling contest. "With so much love on display, we also want to know how in love our shoppers are. In a booth at the Designer Outlet Roermond, our shoppers can record a video in which they tell us what love means to them. The person, couple or group who grasps the essence of love the best, can take the beautiful etching home with them."
The contest ends on 7 July after which the jury deliberates on which love story they prefer. On 15 July, Rembrandt's birthday, one lucky shopper gets the good news. Afterwards, the piece of art remains exhibited until the end of Loving Rembrandt, on 1 September, when the new lucky owner takes it home with him or her. "And even if you cannot make it to Roermond before 7 July, you can still participate. On the website of Designer Outlet Roermond, you can find a form on which you can write down your heart's odyssey just as well."
Pierre Cuypers
That such a spectacular Rembrandt-related event takes place in Roermond is hardly a surprise. The city's most-celebrated former resident was architect Pierre Cuypers, a visionary designer who reinvented the Dutch streets. Besides designing the central station of Amsterdam and many other buildings, his main achievement is the design of the Rijksmuseum in Amsterdam, home of Rembrandt's iconic The Night Watch. "In his mother town, he has created a fair share of breathtaking buildings as well. At the tourist office, they can provide you with a map which guides you past all his stunning creations as well as his birth house. To fully immerse yourself into his work, you should pay the Cuypershuis a visit too." In this museum dedicated to his work and that of his contemporaries, the plans of the Rijksmuseum are on display. Take the time to gaze at them and explore the iconic cultural temple, which became a synonym for Rembrandt Van Rijn's craftsmanship.
Web: www.vvvroermond.nl
Middle-Limburg, a holiday destination of many delights
By combining culture, nature and recreation, the region of Middle-Limburg is the perfect getaway for tourists. Located in the narrow pipe between Germany and Belgium, it is also the ideal hub from which to roam Central Europe.
Few Dutch regions are as versatile as Middle-Limburg. As a green oasis in the densely populated Netherlands, it is the relaxing destination par excellence. In Middle-Limburg's two national parks (Groote Peel and Meinweg) you can wander the day away while stumbling on a spectacular view every few metres. As a region of water, its citizens adore their vivid river; or, as they call it, their Mother Maas. With the Maasplassen, the region even offers multiple connected big lakes where different type of water sports are key. As the biggest water-skiing water-sports area in the Netherlands, many hours of fun on and in the water are guaranteed.
Away from its nature, you stumble upon a very different Middle-Limburg. The historic centre of Roermond is the perfect spot to dive into the region's cultural offerings or to do some more shopping. Just a five-minute walk from the Designer Outlet, you can enter both the cute little stores and the town's big purchasing paradises. For some more tranquillity, a visit to the so-called, 'white village' of Thorn is the perfect choice. The town's centre combines the intimate beauty of a hamlet with the informal atmosphere of a lively village.
Furthermore, Middle-Limburg seems to be located in the centre of the world. Just a short distance away, you can find a myriad of airports on both Belgian (Brussels, Liège and Charleroi), German (Cologne-Bonn and Dusseldorf) and Dutch territory (Eindhoven and Maastricht-Aachen). Those coming from Amsterdam are just a direct train connection away from the city as well. With the Discover Holland Ticket, you get a comfortable train ride and a ten per cent discount at Designer Outlet Roermond for just 19 euros.
Subscribe to Our Newsletter
Receive our monthly newsletter by email