Klous + Brandjes Building Advice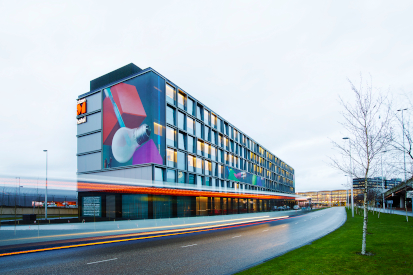 'BIM is more than slick 3D designs'
TEXT: MICHIEL STOL | PHOTOS © KLOUS + BRANDJES BUILDING ADVICE
With the 3D modelling of a construction project, large amounts of data are generated. To streamline the design process, a technique called BIM is used, or Building Information Models. Managing data effectively can greatly benefit almost every single party involved in the design and construction process. That is where Klous + Brandjes Building Advice comes in. "One room can have 500 3D elements, including data. Managing that data is what we love and do best," smiles manager John Mosterd.
According to Mosterd, BIM is widely used in the architectural community, but not all architects have the skills to fully utilise it. "To us, BIM means Building Information Management. We don't just bring those 3D models together, we also manage all the data and information that comes with them, and we create a full virtual model. This way, clients can take a VR-tour through a building, to ensure the designs do not clash: for instance, whether a wall blocks a door. This can save between 11 and 18 per cent in building costs."
Klous + Brandjes has used its know-how for various projects, including for citizenM Hotels and Zoku, a complete hotel or just good 3D R&D support. Besides their VR capabilities, Klous + Brandjes also uses 3D-printing. "We have our own lab, and students are free to come to us to study here. That gives our office so much energy."
Klous + Brandjes also does 3D modelling for their own projects and projects from other architects. "We are working on an amazing project in Florence, Italy, right now. Thirteen buildings of the former factory complex Manifattura Tabacchi are being transformed to various applications," says Mosterd with a big smile. "We were invited to create the 3D architectural models for the developer, based on the designs by concrete architects Amsterdam.
The company, founded in 2010, is a spin off from Klous + Brandjes Architects, and they continue to do modelling for their mother company. "Back then, it was a logical step to make BIM and 3D modelling a separate entity. It made it possible for us to work on all kinds of projects."
"BIM is commonly just associated with slick 3D models," explains Mosterd. "And these models are of course very important, but we see BIM as a methodology, based on collaboration and sharing data with all parties involved. It helps with the design and reduces building mistakes. For us, BIM is the norm."

Web: kbbouwadvies.nl
Subscribe to Our Newsletter
Receive our monthly newsletter by email