KettingHuls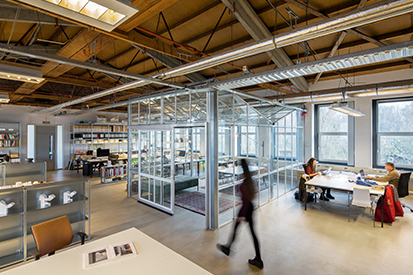 Architecture of the open mind
TEXT: ELLA PUT | PHOTOS © KETTINGHULS
Focused on the idea that a building should merge with its environment, KettingHuls designs architectural projects that perfectly employ contemporary design to seamlessly fit with their natural surroundings.
"We believe in architecture of the open mind," co-owner of KettingHuls, Daniëlle Huls, explains. "We don't just create buildings for our clients, we establish a project by looking at the natural surroundings, city and the existing environment and create a plan from there."
An example of this is the Vliervelden project, which was built on farmland: with its rural landscape, KettingHuls did not find it suitable to create design apartments. Huls: "That would not fit the feeling of farm life. We recreated a beautiful farmhouse, by taking inspiration from old American farmhouses that were built by pioneers. The idea behind the plan is to recreate a certain feeling that fits the area. The future residents will behave as pioneers, because they are the first to live there. This fits the character of the environment more. Pioneers need to find their place."
This philosophy started with one of their very first housing projects. Huls: "When entering the project's grounds, we saw this beautiful pond with striking oak trees. We decided to keep the pond and trees, merging the new houses with the nature that already was there. The 'old' sometimes needs to stay to make the 'new' feel at home."
KettingHuls never take on a particular style, but there is always a certain contemporary touch. "After all, we build for and in this era and the buildings should be a visualisation of the time we live in," Huls explains. "As architects, we need to see that there is an unlimited amount of creativity, so long as we dare to look beyond what we think a building 'should' look like," Huls clarifies.
Another project by KettingHuls, is the striking Metropolis building, near Amsterdam. "We re-created old industrial heritage, by re-designing several factory halls. The large amount of natural daylight as well as the high ceilings create a flexible work environment, housing several start-ups and other companies from the creative industry." Huls explains.
Each project is different, depending on the wishes and needs of a client. Huls: "We try to be their eyes and ears by translating their wishes onto paper and visualising their dreams. Key is always to listen, let your creativity float along, and last, but definitely not least, to get everyone to be as enthusiastic about every project as we are."
Subscribe to Our Newsletter
Receive our monthly newsletter by email