heer & meester – Peelboerderij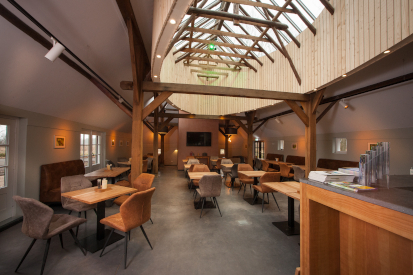 A metamorphosis of light
TEXT: MYRIAM DIJCK | PHOTOS © HERBERT HENDRIKS
Going above and beyond the requirements, architect Martin Koldenhof had a clear vision for the transformation of the gloomy farmhouse, the Peelboerderij. With some relatively minor structural adjustments, he achieved maximum impact. Completed in April this year, the Peelboerderij is now flooded with natural light, which beams through a stunning glass section of the roof.
The outside of the farmhouse reveals little of the complete metamorphosis that went on inside. An oval roof section was replaced by an impressive glass 'light ship', with a dramatic effect. "The original wooden roof is still in place, and the slats of the light ship rest on top of the supporting beams, so structurally, it was quite a straightforward," he says.
Koldenhof, who runs his own architecture firm heer & meester, was picked as the winner with his redesign two years ago. "The design allowed for additional functions, such as hosting weddings or funerals. This wasn't actually part of the original brief, I thought of it myself." This vision proved to be the right one, and since its opening, several weddings as well as funerals have taken place here.
Key in the design was keeping the original character of the 1960s building intact. At one end of the farmhouse, he created a seating area in which to relax in a comfortable setting, which doubles as a break-out space without being completely cut off. He says: "We lowered the floor there and kept the three original windows. These small windows face the national park, the Peel, and are almost like living paintings of nature."
Located in Ospel, in the south of the Netherlands, the Peelboerderij now has catering facilities and a visitors' cafe that is open on the weekends. For events, the main hall can host up to 50 guests in a theatre setting. Despite the large floor plan of the space, it has a diverse and intimate feeling. "The light focuses on the centre of the space so that the sections on the side have a dimmed, more quiet atmosphere," Koldenhof explains.
The interplay of light and dark clearly shows itself and Koldenhof intentionally respected and preserved this. He concludes: "I show dark, by letting in light, but this also allows you to observe the starry sky and the darkness of an evening in autumn. There are not many places in the country where it is dark enough to see the stars."

Web: heer-meester.nl
Subscribe to Our Newsletter
Receive our monthly newsletter by email