Green Brussels: Five urban oases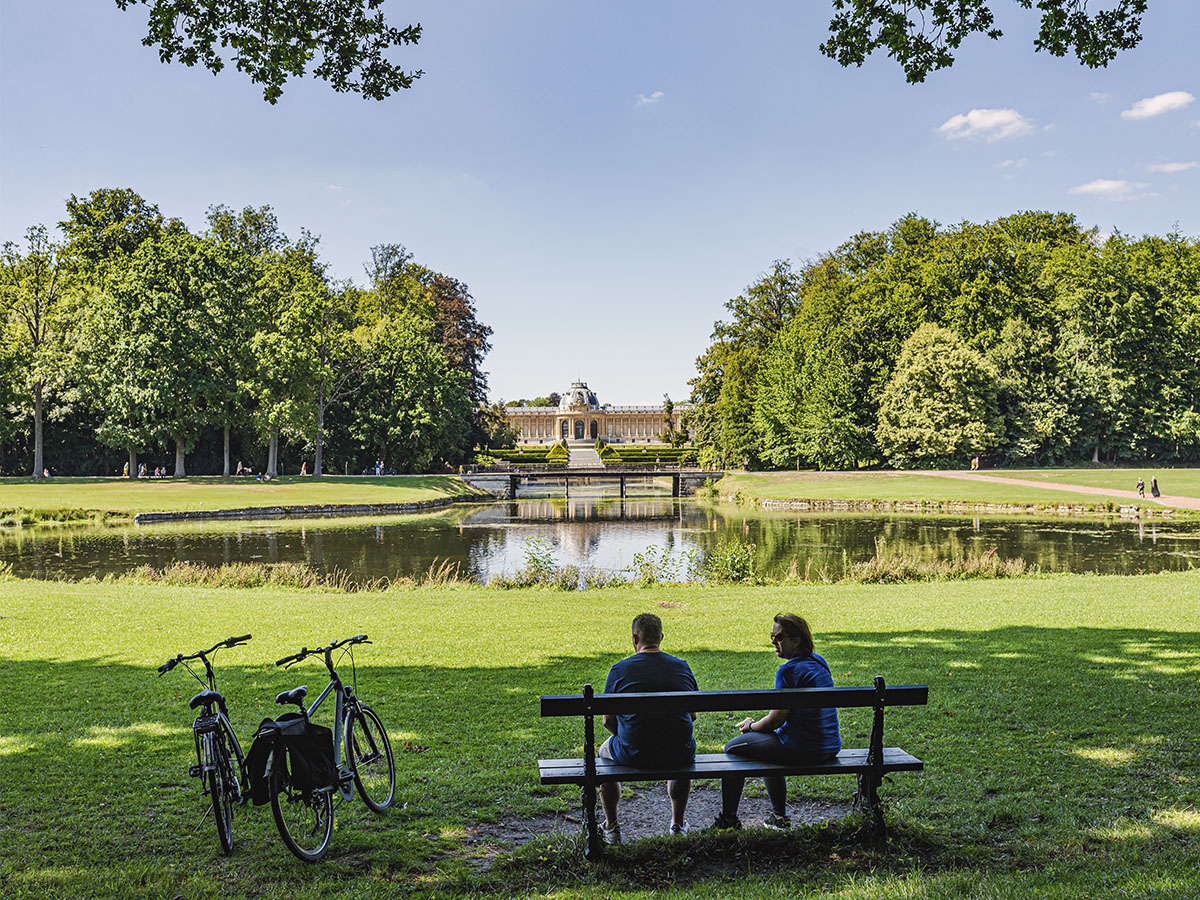 Brussels is more than just a maze of buildings and avenues. In places, it looks more like a maze of green – one of trees, grass and plants. If you know where to go, Brussels can be a great destination for a weekend combining nature and urban vibes, because the green lungs of Brussels are just mere metres away from the metropolitan craze.
1. The green belt
The green lung of Brussels lies just outside of the city centre and can be split up into three parts: the La Cambre Abbey, the Bois de la Cambre, and the Sonian Forest. The former is a historic monastery with a charming garden of greenery and water features. In summer, it is also the setting of many cultural and popular events. Less than a kilometre further out, the Bois de la Cambre offers the Bruxellois a sizable, charming woodland to walk the dog, read a book or have a picnic. Yet, to really disconnect, you should head to the Sonian Forest. With its 4,421 hectares, it easily lends itself to a day-long hike. As the forest covers parts of the regions of Brussels, Flanders and Wallonia, it allows you to explore Belgium in all its facets.
The La Cambre Abbey, the Bois de la Cambre, and the Sonian Forest, all on the south-eastern side of the city (Legrand, tram 8 and 93). Free admission. Open 24/7.
2. Panoramic park
Truth be told, Forest Park and Duden Park, the parks adjoining the Forest area, are not the most spectacular of urban green zones. With big lawns and domestic trees, they mostly act as little more than commons for locals. But what makes them worth a trip is the nice panorama. Grab a seat on the grass and have a snack while gazing at the mammoth Palais de Justice.
Forest Park and Duden Park. Forest (Albert, tram 3, 4 and 51). Free entrance. Open 24/7.
3. Royal and lush
The estate of the Belgian royal family is gigantic, but most spectacular are its 19th-century greenhouses. In actual fact resembling glass palaces more than greenhouse, they form a harmonious marriage between culture and nature. Inside, the greenhouses look even more lush, with exotic plants and palm trees climbing towards the glass ceiling. Unfortunately, the Royal Greenhouses are the private property of the king and therefore closed to the public. Yet, if you are lucky enough to visit Brussels during the four weeks that the crystal garden opens its doors, you sure are up for a treat.
Royal Greenhouses of Laeken. Avenue du Parc Royal (Serres Royales, bus 53 and De Lijn-bus 230, 231 and 232). €2.50 (children under 18 go free). Open from 17 April 2020 until 8 May 2020, Tuesday to Sunday from 9.30am to 3.30pm and/or from 8pm to 9.30pm (check www.monarchie.be for exact timings).
4. Purple rain
Since Instagram and Pinterest were released into the world, the Hallerbos has been world-famous. Ironically, most Belgians hardly know it exists. This vast woodland looks mundane for most of the year but becomes an influencer playground once its bluebells start to bloom. When the thousands of small, purple-blue flowers cover its mossy grounds, the Hallerbos is the place to be for nature aficionados. When you visit, be respectful of this miracle of nature and make sure not to step on the flowers or pick them. This way, they can delight passers-by for centuries to come.
Hallerbos. Hogebermweg (Halle). Free admission. Open 24/7. Blossoming season from late March until mid-April.
5. A touch of Africa
Belgium's relationship with Africa is not one of which Belgians are particularly proud. During the reign of King Leopold II and long after that, Congo was a Belgian colony. In order not to forget this tragedy and to instead celebrate African culture, the Royal Museum for Central Africa was founded – one of Europe's most important museums about Africa. After a years-long renovation, the monumental museum now looks better than ever. Alongside cultural richness, you'll also find plenty of natural beauty. The Tervuren Park, in which the museum is situated, is a charming garden of greens and blues, just a stone's throw away from the city centre.
Tervuren Park. Keizerinnedreef (Tervuren) (Tervuren Station, tram 44). Free admission. Open 24/7. Royal Museum for Central Africa. Leuvensesteenweg 13 (Tervuren). €12 (discounts available). Open from 11am to 5pm on weekdays and from 10am to 6pm on weekends.
Subscribe to Our Newsletter
Receive our monthly newsletter by email