Antwerp's Art Nouveau scene
TEXT : JENNIFER DEWAR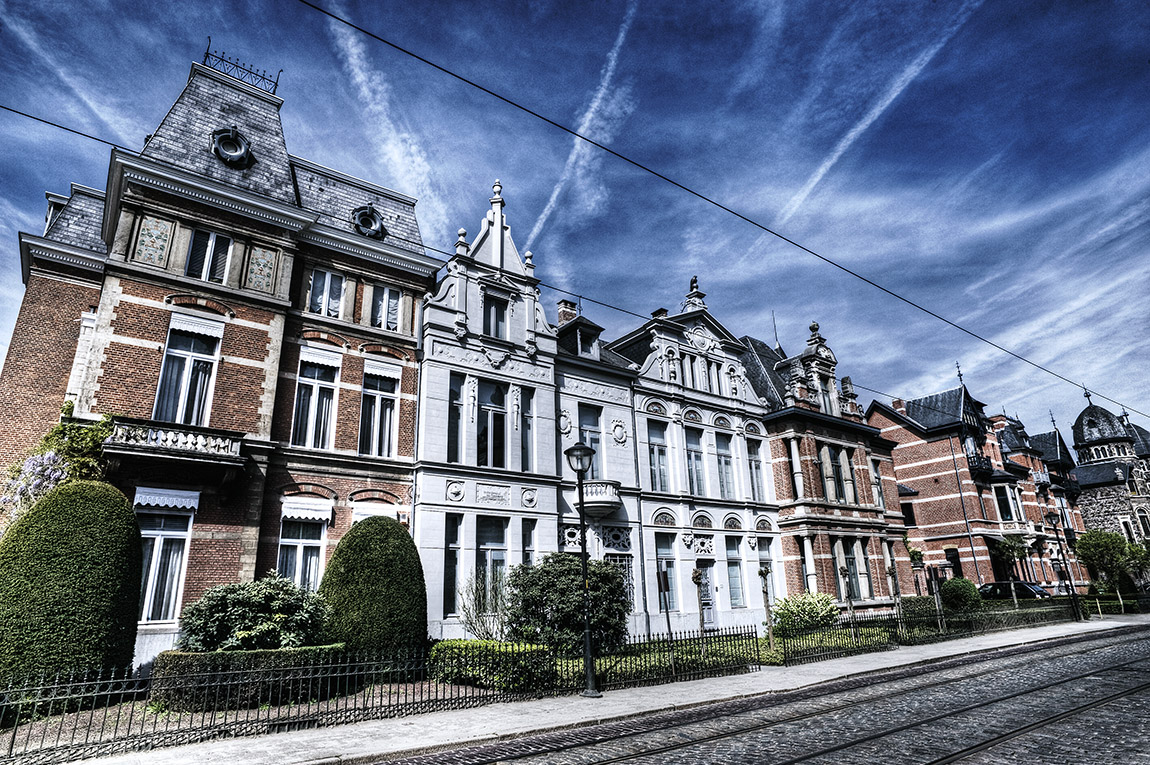 The city famed for its diamonds is also home to the Golden Triangle, an area often regarded as the most important Art Nouveau quarter in Europe. Situated just outside the centre of Antwerp in the Zurenborg district, between Cogels-Osylei, Waterloostraat and Transvaalstraat, this must-visit part of the city offers visitors a chance to gaze up in wonder at some extraordinary architectural masterpieces.
Art Nouveau was an artistic movement popular in Europe between 1890 and 1910, the so-called Belle Époque era. It was heavily influenced by the British Arts and Crafts movement and was a response to the ideas of leading 19th-century theoreticians such as the French architect Eugéne-Emmanuel Viollet-le-Duc and British art critic John Ruskin. The concept was also shaped by German architects who sought to create spiritually uplifting designs called Gesamtkunstwerk (literally translating to 'total work of art') in which various disciplines are combined into a coherent whole. The art form spanned many different types of arts (including ceramics and painting), but in architecture, it placed particular emphasis on dynamism and movement, with the use of modern materials and special appreciation for nature in all its forms.
It was actually in Belgium that the term 'Art Nouveau' was first coined when journal L'Art Moderne (1884) used it to describe the work of Les Vingts, twenty painters and sculptors seeking reform through art. The first Art Nouveau houses and interior decoration appeared in Brussels in the architecture and interior design of houses by notable architects such as Victor Horta (the movement's trailblazer, responsible for notable buildings such as Hôtel Tassel and Solvay House). It later reached Paris, experiencing its peak at the 1900 Paris International Exposition, which introduced Art Nouveau works to the rest of the world.
Preserving history
Antwerp is Belgium's second-largest town after Brussels and has one of the most important ports in Europe. It was the city's wealth and booming diamond trade which made it possible for more than 170 Art Nouveau houses to be built at the turn of the century. The main architects representative of the movement were Joseph Bascourt, Jules Hofman and Frans Smet-Verhas. Later on in the 1960s, the Art Nouveau houses faced demolition, as they were considered too big, too costly to maintain, and many were in poor shape. Fortunately, after much protest to save history from being destroyed, these architectural masterpieces achieved protected status in the 1980s. Since then, the houses have been restored to their former glory and are now an important part of the Antwerp visitor experience.
Standout houses
All of the houses in the Zurenborg district are absolutely stunning, and because this year marks the 130th anniversary of Art Nouveau in Belgium, no better time to plan a trip than now. At the intersection of Waterloostraat and Generaal van Merlenstraat, you will find the De Vier Jaargetijden (Four Seasons) villas positioned on each corner and designed by Joseph Bascourt. The frescoes on the villas represent the seasons with depictions of nature, which is typical of the Art Nouveau style.
At the crossroads of Cogels-Osylei, one of the city's most impressive streets, are four beautiful Witte Paleizen (white palatial buildings) that are the work of Frans Dieltiens and reminiscent of the Château de Chambord in the Loire Valley, France.
A bit farther afield, at 2 Schilderstraat in the city's Zuid (South) district, you can feast your eyes on one of the most renowned examples of Art Nouveau style, De Vijf Werelddelen (The Five Continents). Located opposite the Royal Museum of Fine Arts, the four houses were commissioned by wealthy shipbuilder, P. Roeis and designed by architect Frans Smet-Verhas. Dating to 1901, the corner of the four buildings is daringly decorated with what looks like the prow of a ship. Not only does this allude to the profession of Roeis, but it is also a nod to Antwerp's status as a global port.
This is but a small selection of the myriad architectural gems in Antwerp. As with many Art Nouveau buildings, they often feature wrought-iron work sometimes decorated with whiplash lines, irregular moulding curves, gentle arches, colourful ceramic tiles, mosaics, stained glass, gilded asymmetrical ornamenting and keyhole windows and screens.
Putting your best foot forward
Probably the best way to discover Antwerp's Art Nouveau houses is by foot. Most people agree that if you want to get to know a city, walking makes taking in the history, architecture and soul of a city much easier. After spending a morning or afternoon strolling through the city, you might want to stop for a break at one of the many excellent pubs, restaurants and cafés. Het ZeeZicht, Café Moeskop and Aan het Strand van Oostende are all located on the bustling Dageraadplaats square and serve excellent food. Coming with young children? There's also a playground on the square.
Getting to the district, you'll need to take a 25-minute walk north from Antwerpen-Berchem railway station. Alternatively, should you want to save some of your energy before a long walk, hop on a tram (6 or 11) or a bus (9 or 20). Groups interested in learning more about the area and discovering all its hidden corners and special charm can join the Cogels-Osylei tour led by an expert guide (see experienceantwerp.be for more information). The two-hour tour starts at the Hall of Antwerpen – Berchem Railway Station. You can also follow the Zurenborg tour on your own (2.5 hours) by downloading the free brochure (in Dutch) via visitantwerp.be or by picking up a copy in English for €3 from the Visitor's Centre at Het Steen or Central Station.
Subscribe to Our Newsletter
Receive our monthly newsletter by email