Giethoorn – Slowing down in a water-laced Dutch village
TEXT: MELISSA ADAMS | PHOTOS: PIXABAY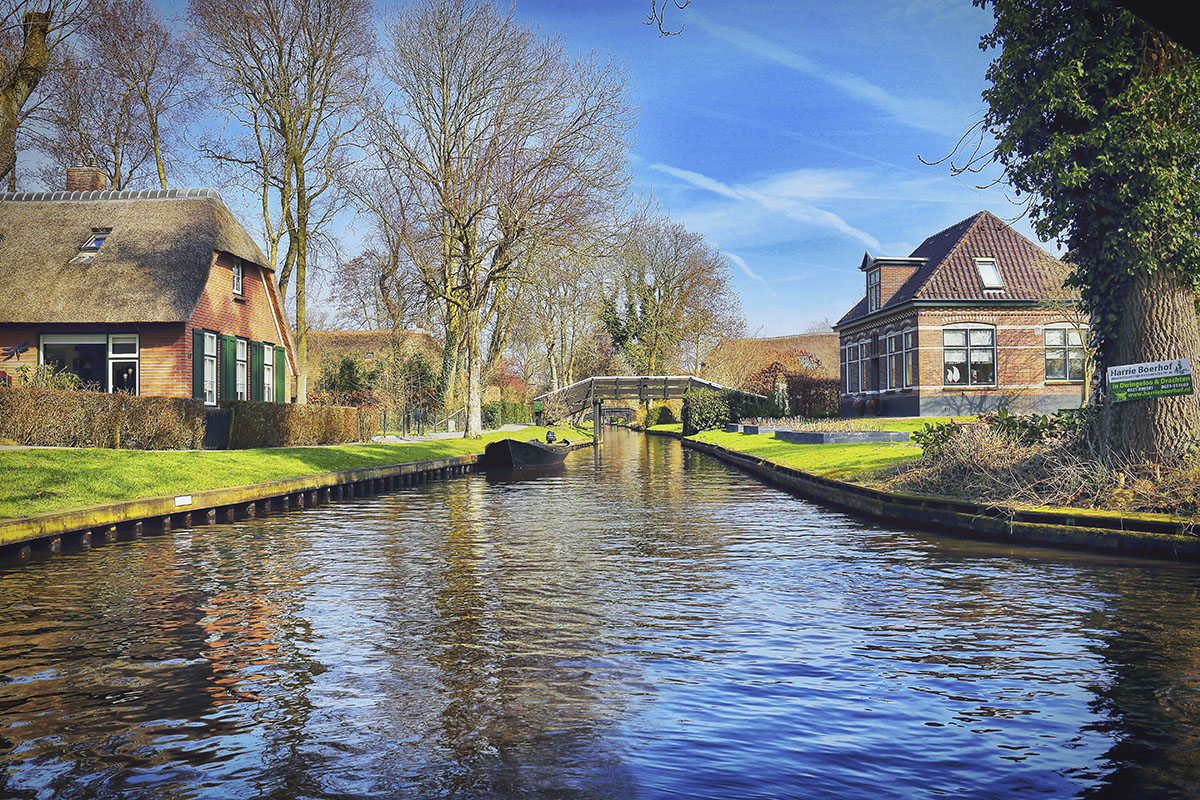 Travel writers often describe Giethoorn, a mostly car-free medieval hamlet in the Netherlands' northeastern Overijssel province, as a "fairytale village". It's an apt characterisation of a drowsy town of just 2,800 residents that seems plucked from a Grimm's fable – a sleeping beauty who wakes up to let down her wavy hair for visitors from around the globe to admire.
It's easy to wax poetic about Giethoorn. With its manicured lawns, leafy pathways, 18th-century thatched-roof farmhouses and flower-bedecked bridges, the tiny village midway between Amsterdam and Groningen could be the setting for a romantic fairytale. Boats move along at a snail's pace here. Waterside dining is anything but rushed. Window-shoppers amble along on wooden footpaths, idly browsing in boutiques that line the canals. Sure, an aggressive seagull might swoop down to grab a hot French fry from an unsuspecting tourist, but the pace is otherwise chill in a pastoral setting where the loudest sound is sometimes a symphony of birdsong, with quacking ducks providing percussion.
A network of lakes and 90 kilometres of winding, hand-dug canals replace paved roads in Giethoorn. Named after hundreds of goat horns were discovered in its marshlands – remnants of a 10th-century flood – what was established as a settlement of peat harvesters is now a place where time has stopped. Although no animal horns litter the village today, little else has changed in a landscape that can appear primeval on foggy mornings when mist hovers over the waterways or hardy souls skate on frozen canals in the coldest winters.
In this bucolic landscape, even the village postman delivers mail via punt boat – a flat-bottomed vessel powered with a long pole that facilitates navigation through the reeds. Red whisper boats glide noiselessly through lush forests and under private bridges leading to homes built on peat islands, inaccessible by motor vehicle. Powered by eco-friendly electric motors that create none of the clamour of gas-powered outboard models, the craft function as cars do elsewhere, but without noisy horns or road rage.
As the most popular mode of transit in a village with no public trams or buses, whisper boats ferry visitors around Giethoorn's waterways on narrated tours. Those who want to play captain for a day need neither technical skill nor a license to operate the vessels, which can be rented at many local establishments. Electric-powered sloops are a faster, more luxurious option, with more powerful engines, leather cushions and a steering wheel that makes them easier to control than whisper boats. More adventurous souls can rent canoes, sup boards, and of course, bikes.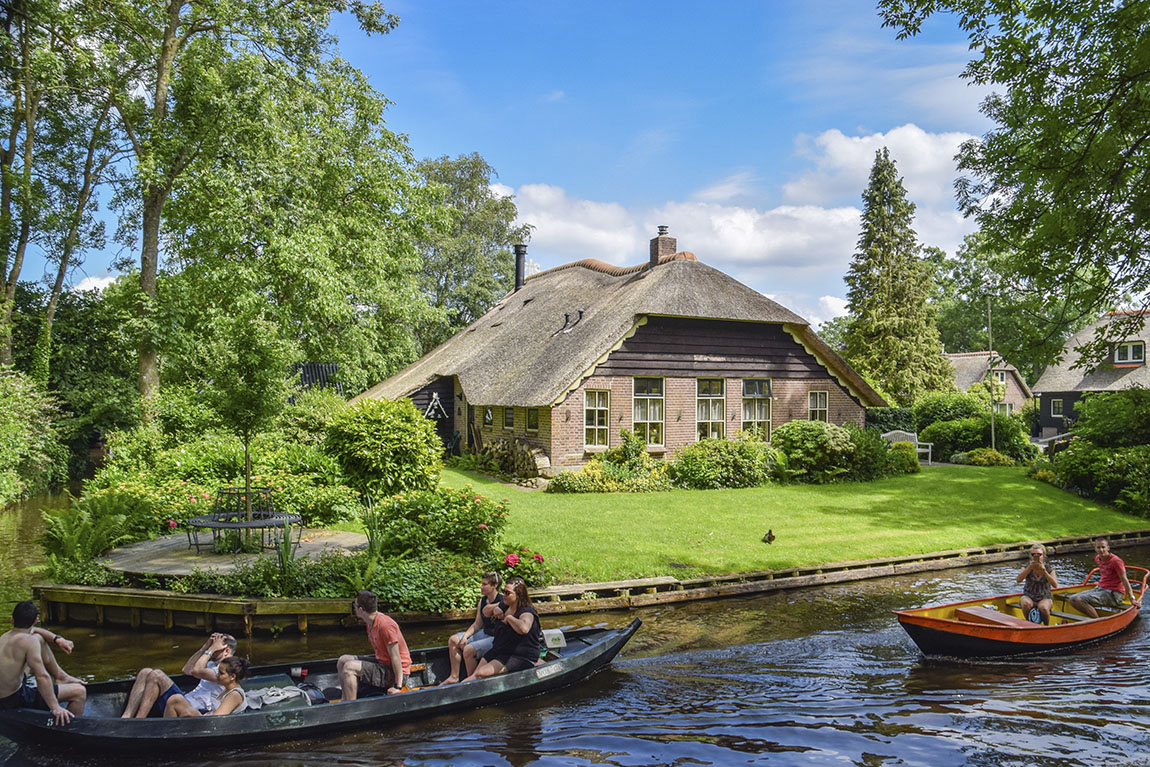 Comparisons with Italy's Venice
Giethoorn's winding canals have inspired writers to call it Europe's "Venice of the North", the same nickname sometimes applied to Amsterdam. While its water-laced setting bears some similarities with its Italian counterpart, Giethoorn's laid-back vibe is nothing like that of its frenetic cousin in the Adriatic Sea. In place of a pigeon-filled main square, it boasts a relaxed waterfront peppered with cafés, hotels and boat rental agencies. Lacking Renaissance mansions and Gothic palaces, it surprises with centuries-old cottages and wooden bridges. Rather than Byzantine mosaics and a towering bell tower, it seduces with immaculately groomed lawns bursting with pink hydrangeas and fruit trees dripping with ripe apples and pears.
But like Italy's Venice, Giethoorn can get crowded, especially on warm days in the height of summer. Since 1958, when Fanfare, a Dutch comedy filmed in Giethoorn, was released, the off-the-beaten-track destination has become increasingly popular. As word of its charms has spread, some one million tourists now descend annually, making Giethoorn one of the Netherlands' top 10 attractions and tourism its main industry. In summer, many come in organised groups that sometimes crowd the canals in slo-mo bumper-boat games.
Giethoorn is accessible from Amsterdam via trains to Zwolle or Steenwijktrain, then bus 70 from Zwolle or 270 from Steenwijk. However, most visitors arrive by private motor vehicle or organised tour bus, busting the myth that the village is entirely car-free like Venice. Parking is available in lots outside its commercial heart. From these, a five-minute walk along the Binnenpad foot/cycle path leads to restaurants and shops in the car-free centre.
An idyllic destination
Giethoorn is glorious in summer, when temperatures tend to be mild and flowers are in full bloom. Crowds are generally modest in spring and autumn shoulder seasons and minimal in off-season, making it serene for day-trippers willing to risk inclement weather from November through March. Throughout the year, Giethoorn is an idyllic destination for nature lovers, watersports fans and anyone who wants to escape big city buzz and congestion. Set in De Weerribben-Wieden National Park, one of the Netherlands' top nature reserves, it's less than two hours from Amsterdam by car but worlds away in spirit.
Beyond boating, window-shopping and outdoor dining, attractions include the Olde Maat Uus Museum, offering a glimpse into the region's history; De Oude Aarde, featuring bling from around the world, including precious stones, minerals and fossils; and Art Pottery Giethoorn Floramics, a museum and workshop in a centuries-old farmhouse stable.
Whenever you come, an overnight stay at one of Giethoorn's many hotels, bed & breakfasts or hostels will provide time to see the fairytale village at its best, when the tourist hordes have left and you can join locals for a sunset toast or morning coffee, while watching the boats, ducks and swans glide by.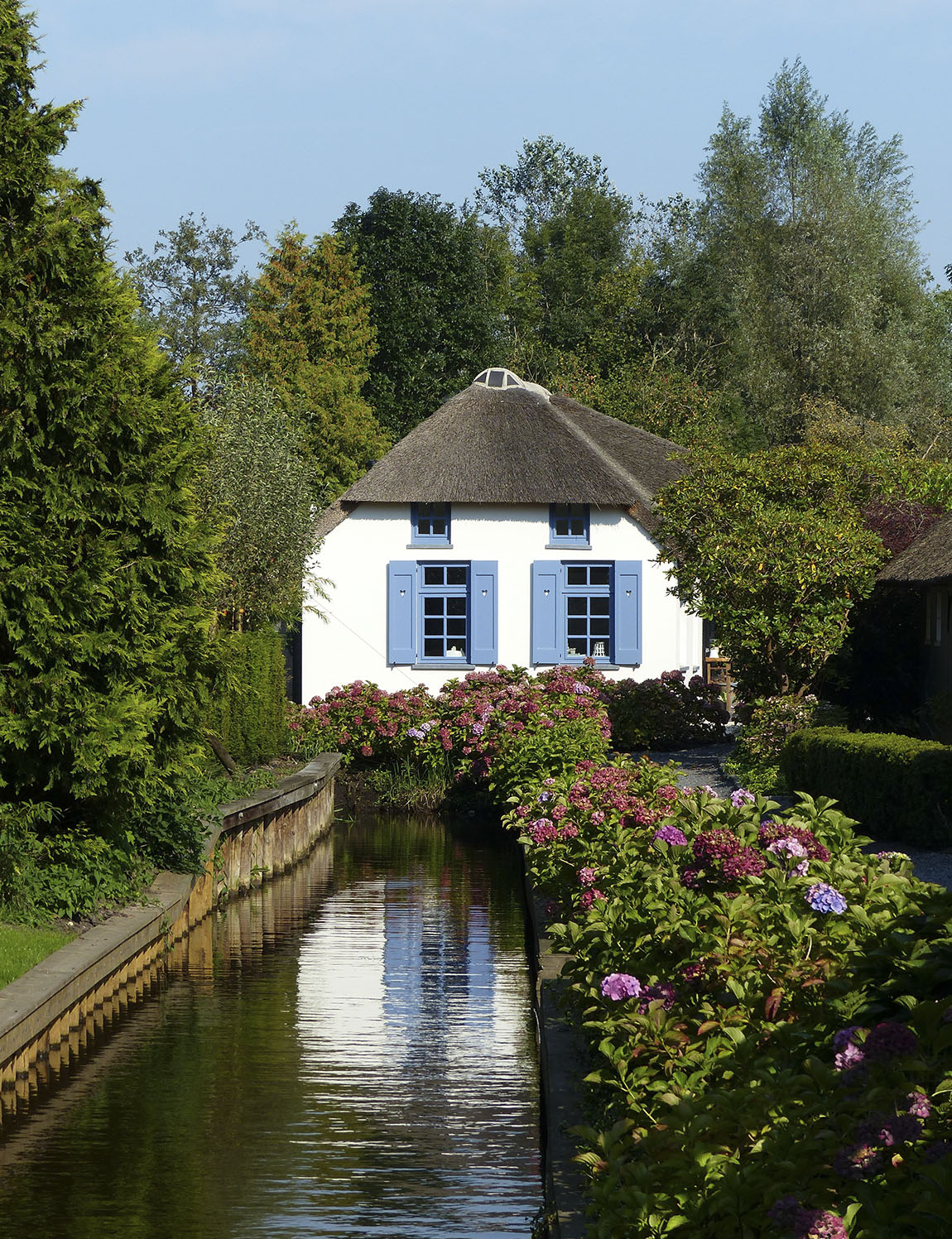 Subscribe to Our Newsletter
Receive our monthly newsletter by email