Gemeente Zutphen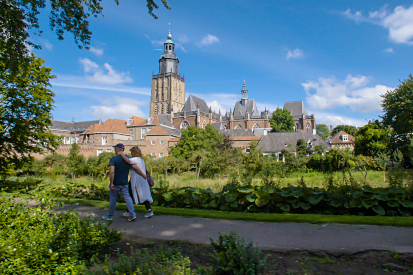 Experience the Medieval ambience in historic Zutphen
TEXT: MICHIEL STOL | PHOTOS © GEMEENTE ZUTPHEN
The east of the Netherlands holds remarkable nature and some of the oldest and most historic cities of the country. Take Zutphen, on the edge of the national park Hoge Veluwe. Here, you can unwind and get doused in a Medieval ambience. "It's as if you walk into a historic painting," says Anke Asselman of Tourist Information Zutphen.
Since its founding in the 12th century, Zutphen has been a major trading city thanks to the river IJssel. "When Amsterdam and Rotterdam were mere villages, Zutphen and surrounding cities were booming and became trade partners in the so called Hanze treaty, a European union 'avant la lettre'," Asselman explains.
The prosperity it brought became tangible in the city's architecture with its richly decorated merchant houses and churches. "The centre is full of idyllic streets and cul de sacs, with beautiful houses and buildings. No matter where you look, you will always see one of the many towers that Zutphen is known for. With over 900 monuments, along with the laid-back atmosphere, it's like you go back in time." Many of the towers are open for visitors, and a visit to the City Museum Zutphen will give a historic insight to the city. "Or take a tour on a 'whisper boat' through the canals, and let the captain, or whisperer, tell you the secrets of the city."
Rich culture and festivals
But Zutphen is so much more than just its rich history. "Check out the shops and authentic bars and restaurants, where you can unwind from the day," Asselman continues. "If you are a music lover, be sure to take a look at the unique collection of pianos at the Geelvinck Music Museum, where you can find the table piano once owned by Marie Antoinette." On 12 September, the museum will open a new exhibition to honour the life and work of local composer Jan Brandts Buys, who wrote the Die Schneider von Schönau opera in 1916.
Every year, Zutphen becomes a Walhalla for chocolate lovers with the Chocolate Festival. "On this day, we are the sweet-tooth capital of the world," smiles Asselman. "Throughout the city, there are demonstrations of making, cooking and painting with chocolate, as well as music and theatre. And have you ever tasted chocolate beer? On 30 September, you can!"
Subscribe to Our Newsletter
Receive our monthly newsletter by email