Gemeente Winterswijk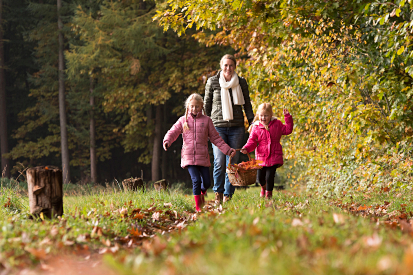 Every ingredient needed for a perfect weekend away
TEXT: XANDRA BOERSMA | PHOTOS © GEMEENTE WINTERSWIJK
Positively surprised, is the general judgement of many guests who have visited Winterswijk. It is calm and cosy, has hospitable residents, lots of idyllically located bed and breakfasts: the perfect getaway from city life. Yet, this scenic, vivid place near the Dutch-German border is still relatively unknown to so many. Time for a change!
Winterswijk may not be the first city that comes to mind when planning a city trip. A shame, according to Imke te Selle and Gienne te Gronde, who both work for the tourist department. "This town has so much to offer," Te Selle emphasises. "It's the perfect combination of an exciting town and peaceful countryside. An ideal village in which to wind down and relax."
This small town in east Netherlands has a busy annual agenda. A classic cars show, a marathon through the hills, valleys and woodlands in the area, and a major Christmas market are only some of the events organised by locals. "Yes, we have a very active community," Te Gronde nods. "Even off-season there are local activities every single day. Around Christmas time there's also ice-skating in the centre next to the various stalls."
Walk the small streets of this town, where well-known retail shops and unique boutiques alternate, and you will no doubt reach the popular foods market filled with bustling terraces. Cooking and tableware shops, bookstores, exclusive shoe and clothing outlets; everything is available to the keen shopper. Including various nice restaurants at which to enjoy a break from all that shopping, of course. It sounds like a cliché, but there truly is something for everyone.
Nearly six million people visit Winterswijk every year to enjoy the scenic surroundings with streams and hedgerows, appointed as National Landscape, either by foot, bike or car. A lot of people visit, yet it never feels too crowded. "That's another benefit of our town," Te Selle explains. "Only 29,000 people live here, but it accommodates a significantly larger audience. So even if there are a lot of people visiting, like on any regular Saturday, being able to enjoy the peace and quiet is still guaranteed."
Even when the weather is not so good, there is plenty to do. Visit famous Dutch painter Piet Mondrian's house for example – nowadays a museum showcasing his first paintings and drawings.Or you can visit the museum about the history of public transport or enjoy the high-quality restaurants that serve wild and other regional ingredients. Te Gronde says: "Especially at the end of the year, restaurants in the neighborhood will offer various dinner options. Another great day out is to visit the Vineyard Days in September, when the two vineyards of Winterswijk will open their doors and give tours accompanied by great live music and tastings."
Subscribe to Our Newsletter
Receive our monthly newsletter by email