Gemeente Tilburg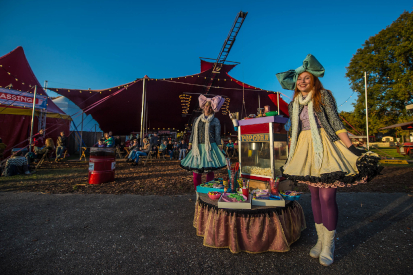 The many reasons for a trip to Tilburg
TEXT: XANDRA BOERSMA | PHOTOS © MARKETING TILBURG
It is the city of art and creative talent, as well as lush green spaces, fun events and excellent restaurants to enjoy. Tilburg has changed a lot over the years, yet is still evolving. It truly deserves to be called a city in motion.
There are many reasons why Tilburg is an ideal destination for any upcoming city trip you might be keen on taking. Marketing director Marc Meeuwis confirms: "Tilburg is a creative, urban city. It's kind of a rollercoaster actually, plenty of fun things to see and do. The 'city in motion' is what we call it." Here, we have outlined the main reasons to visit this vibrant city in the south of the Netherlands.
Plenty of creative talent
Art is displayed and showcased in multiple ways throughout this city. First and foremost, for example, in the creative educations that are available to so many. In fact, Tilburg was the first city to launch a rock academy and almost every musical star in the Netherlands has studied here. "We also have a renowned circus education," says Meeuwis. "Every year in October we organise Circulo, a circus festival when former students who now work all over the world come back to Tilburg. They perform in one of the many small circus tents at the festival."
Before artist Anish Kapoor rose to fame, he exhibited in Tilburg. "It was his first exhibition, around 25 years ago," Meeuwis explains. And Tilburg is still in his heart. Museum of Modern Art De Pont – the same museum that hosted his first display – now has multiple sculptures of Kapoor in its standard collection. Meeuwis adds: "And to celebrate the 25th anniversary of De Pont, Kapoor created a special sculpture called Sky Mirror. It reflects the air in what looks like a giant mirror." The sculpture was placed in front of the museum in 2017 and has since turned into the most photographed part of the city.
Tilburg is the third greenest city in the Netherlands and has many lush forests. Which means that it is easy to take a break and enjoy nature at any time. For instance, take a walk in Moerenburg, an area on the edge of the city centre that is filled with public art pieces.
Something for beer lovers
Beer enthusiasts can indulge at Trappistenklooster. It is located a bit outside the city centre, but definitely worth a visit. This impressive monastery houses an indoor garden where a variety of beers can be enjoyed. Meeuwis confirms: "This is where the monks used to test the quality of the La Trappe beer. Very interesting to visit, and to taste too, of course!"
Another great place for a beer or two is Piushaven. In addition to beer, visitors can have a bite to eat as well, but most of all enjoy the beautiful surroundings. This harbour used to be a desolate are, but was turned into a cosy place with lots of restaurants, bars and designer shops on the waterside.
Speaking of refurbished areas, Spoorzone is definitely one for the list. This used to be a workplace of the Dutch Railways, where they would work on trains. "They rebuilt this in a village nearby so we got the chance to use the area for another purpose," says Meeuwis. These days, Spoorzone is an urban spot where people hang out in one of the restaurants or the skate park. "The place that was once used for locomotives will now be the home of a library as of December. And there's actually still some old train wagons present, those are being turned into restaurants."
Textiles, fairs and shopping
For those who like to shop, Dwaalgebied, which means wander area, is the place to be. These side streets of the city centre are filled with unique boutiques and restaurants. Every month, there is a Sunday market where the boutiques can present their goods, and it is also an opportunity for other businesses or individuals to rent a stall. Most definitely a great day out.
Textile is an important part of Tilburg's history. Many large fashion brands these days use the beautiful fabrics produced here. Jan Taminiau, for example, who is known for designing Dutch Queen Maxima's dresses. "A visit to the TextielMuseum is the perfect way to learn more about the past and present of this industry that so consumes Tilburg," Meeuwis says.
With 225 attractions and over 1.5 million visitors, Tilburgse Kermis (Tilburg Fair) is the biggest in the Benelux. For ten days, young and old come to visit the city. "It's a big spectacle every year. During those last ten days of July, the whole city is upside down, so be sure to add this date to your agenda!"
Subscribe to Our Newsletter
Receive our monthly newsletter by email