Gemeente Halderberge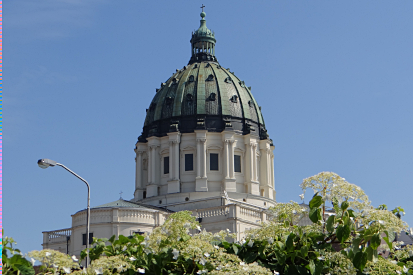 A municipality bursting at the seams
TEXT: BAS VAN DUREN | PHOTOS © GEMEENTE HALDERBERGE
Down in the south of the Netherlands, short of an hour away from Rotterdam, lies the municipality of Halderberge. Composed of five towns, the municipality houses just under 30,000 inhabitants, which is quite small even for Dutch standards, but do not let that number fool you. There is so much to see, enjoy and do whether you want to visit monumental buildings, go skydiving, eat at a food truck festival or get totally lost in a botanical garden.
Though the towns of Oudenbosch, Hoeven, Oud Gastel, Bosschenhoofd and Stampersgat have been around for centuries, the municipality that they form together is fairly new. Established in 1997, Halderberge was part of a larger plan to reorganise several municipalities. Each town has its own uniqueness to it, but it is the Roman Catholic heritage – which is quite typical for the south of the Netherlands – that binds all of them together.
Oudenbosch Basilica
One only needs to travel to Oudenbosch to see that heritage in action. The Oudenbosch Basilica is quite overwhelming, not just because of the sheer size of it, but mainly because it is a replica of the St. Peter's Basilica in Rome. "Our basilica came to be thanks to father Willem Hellemons who used to study in Rome and absolutely adored that city and in particular St. Peter's. He studied so many details of it, so he could create a replica in Oudenbosch that could capture the same feeling as the one in Rome. A gigantic task that started in 1865 and finished in 1880, it's now one of the Netherlands most famous churches, designed partly by famous architect P.J. Cuypers who was also responsible for the Rijksmuseum and Central Station in Amsterdam," reveals a spokesperson from the municipality of Halderberge.
Bovendonk
That same Cuypers did not stop there in Halderberge and went on to build the conference centre Bovendonk in Hoeven. A marvellous building, characterised by its neo gothic style, Bovendonk might look sober from afar, but up close you will notice the stained-glass windows (Cuypers himself drawn in one of them), ornaments, high ceilings and it houses a beautiful chapel. "It's a work of art built between 1905 and 1923 and is in use at the moment as conference centre and hotel, and is the perfect spot for weddings and other parties. The stately library is still in use and just walking through the spacious halls and rooms is a real joy."
Breda International Airport
Do not think Halderberge is only about monumental buildings; thrill seekers can get their shot of adrenaline thanks to Skydive ENPC, situated at Breda International Airport; a private airport not far from the city of Breda, but located in Bosschenhoofd. "Skydive ENPC is founded by a very active parachutists club who'll take you 3,000 metres in the air and from there you tandem jump out of a plane. It's quite a popular attraction and not the only one at Breda International Airport. It's also the venue for the VSV Breda Airshow that takes place the second of September and attracted over 15,000 visitors in 2015. This year's edition we expect to see similar numbers, especially with this year's show that will include wingwalkers."
Outdoors
For those who enjoy the outdoors, Halderberge is most certainly a good option. Not only are there a plethora of cycling routes, but there is a sizeable botanical garden in Oudenbosch. Housing many unique plants and just at the edge of the town's centre, Hortus Oudenbosch is run by more than 70 volunteers who dedicate their time to the upkeep of what used to be two monastery gardens. With over 60 types of aesculus (buckeye), viburnum and calycanthaceae (sweetshrubs), those with green fingers will have a field day. Just like kids will at water park Splesj in Hoeven, one of the Benelux's biggest water parks and fitted with a large camping site next to it with more than enough space for tents, RVs and such. But one does not have to do the outdoors stay to enjoy Halderberge: there are plenty of hotels, chalets and bed and breakfast spots as well.
All that and still Halderberge has more to offer: an observatory, several museums, chapels and more. Besters: "It's quite astonishing how much you can do on this limited amount of space, but we're proud it's all there and welcome anyone who wants to visit Halderberge."
BOX
For more on Halderberge, check out the website:
Subscribe to Our Newsletter
Receive our monthly newsletter by email