Gemeente Halderberge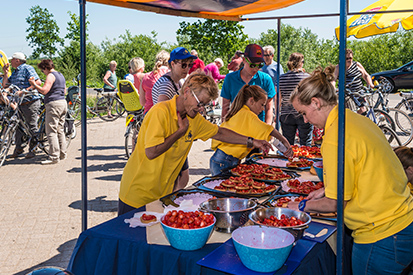 Discover religious heritage the Dutch way
TEXT: MICHIEL STOL | PHOTOS © GEMEENTE HALDERBERGE
The southern parts of the Netherlands are predominantly Catholic regions, so it comes as no surprise that the area is brimming with religious heritage sites. For instance, the south-western municipality of Halderberge has amazing historical buildings and museums, dedicated to this legacy. "And the best way to discover all this splendour, is by doing it the Dutch way; on a bicycle," says José Besters of Halderberge Municipality.
Although the towns of Oudenbosch, Oud Gastel, Hoeven, Bosschenhoofd and Stampersgat have been around for centuries, the municipality to which these towns belong is fairly new – it was established in 1997. Each town has its own uniqueness to it, but it is the Roman Catholic heritage that binds them all together.
Oudenbosch is the biggest of the five. Here, you simply cannot escape the heritage, in part thanks to the Oudenbosch Basilica of the Holy Agatha and Barbara. If not for its sheer size, people are overwhelmed by this copy of St. Peter's Basilica in Rome. "The basilica came to be in 1880, after 15 years of construction, thanks to father Willem Hellemons. He lived in Rome for a while and was in awe of St. Peter's Basilica. He studied as many details as possible, so he could create a replica in Oudenbosch," explains Besters. "It is now one of the Netherlands' most famous churches, with over 70,000 visitors each year." The basilica was designed almost entirely by famous architect P.J. Cuypers, who was also responsible for the Rijksmuseum and Central Station in Amsterdam. Cuypers went on to build the monastery Bovendonk in Hoeven, also part of the municipality. This marvellous building, characterised by its neo-gothic style, looks sober from afar, but up close you will notice the stained glass windows, beautiful ornaments and high ceilings.
Touring Halderberge by bike
Today, the monastery is the location of a beautiful hotel, where the priests' study rooms and lodgings have been turned into comfortable rooms. Bovendonk is centrally located between Breda, Bergen op Zoom and Willemstad, making it the perfect base for a cultural and historic trip, not to mention a great spot for discovering this amazing region by bicycle. Oudenbosch is only five kilometres away, so the basilica can be reached within a few minutes. From Bovendonk, you can also follow one of the many bicycle routes that have been set out not just in Halderberge, but throughout the whole region. They are categorised by length, but also by theme. For instance, they have the 'Lost Peat' route, which will take you along the history of the Peat and even extends into Belgium. Other routes take you along the different towns and museums, as well as the two marinas in Halderberge, where you have the perfect opportunity to take a break along the waterfront, with a nice refreshment or a local specialty beer.
During the Ascension Day weekend, Hoeven has a four-day bicycle event, where thousands of families and tourists ride along a 25 kilometre, 40 kilometre, 60 kilometre or 100 kilometre route each day, with live music at the different checkpoints. Perfect if you want to get to know Halderberge and beyond – and meet other cyclists too.
And do not think Halderberge is just about monumental buildings; thrill seekers can get their shot of adrenaline by going skydiving at Breda International Airport, a private airport located in Bosschenhoofd. The skydiving club was founded by a very active parachutists club, who will take you to as high as 9,000 to 10,000 feet. From there, you tandem jump out of a plane. It is quite a popular attraction and not the only one at Breda International Airport. The Flying Museum, also located there, has a unique collection of historical aircraft, which are all airworthy and frequently take off. And for water enthusiasts, 'Splesj Water Park' in Hoeven is one of the Benelux' biggest water parks.
In addition to all that, Halderberge still has even more to offer, such as an observatory, several museums and a beautiful arboretum with amazing varieties of bushes and trees.
"Short or long stay, you'll find plenty to enjoy in our city and in the West-Brabant region. Hop on your bike or start hiking, but above all, enjoy and have a pleasant stay."
Subscribe to Our Newsletter
Receive our monthly newsletter by email