Gemeente Goirle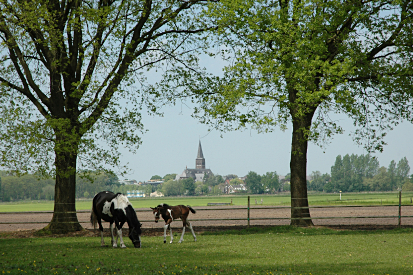 Discover Goirle: hidden from the crowd
TEXT: BERTHE VAN DEN HURK | PHOTOS © GEMEENTE GOIRLE
The Dutch province of Noord-Brabant has a lot to offer; great cities, fun activities and many exciting job opportunities. But once in a while, one needs some peace and quiet. For that, you can head to Goirle, the tranquil destination with beautiful surroundings.
Joep Horevoorts, civil servant at the municipality, believes that Goirle is unjustly unknown: "Goirle provides that sometimes much needed peace and quiet in a beautiful setting. The best feature of the region is the perfect combination of tranquility and accessibility to surrounding cities like Tilburg, Breda and Eindhoven, which have theme parks such as Efteling, and the safari park Beekse Bergen. Even the Belgium city Turnhout is only a 30-minute drive away."
The municipality consists of two villages; Goirle and Riel, plus the hamlet of Breehees. The surroundings are rich in natural beauty with various walking and bicycle routes in several estates, such as Regte Heide, Riels Hoefke, The Stork's Nest, Nieuwkerk, The Hoevens and many more. "The area is ideal for people who love history, flora and fauna. Birdwatchers get their money's worth at the special birdwatching cabin and nature lovers can discover all kinds of plants and animals."
Archeology and war monuments
According to Horevoorts, Goirle has a rich history that is unknown to many. It is an interesting location for archaeology, with its own Stonehenge-type prehistoric burial mound at de Regte Heide. "Also, the areas surrounding the municipality have all kinds of war monuments," continues Horevoorts. "The trenches of the First and the bunkers of the Second World War are still present on the meadow. And, for instance, we have the Germans' fake airport 'De Kiek', (also known as SF37), a former German airport which was built to ensure that no bombs hit the nearby airport of Gilze-Rijen. Plus, we also have 'Bels Lijntje', a former railway between the Dutch city Tilburg and the Belgian city Turnhout, now a popular tourist historical adventure cycle path. Goirle's history can be found in many layers of nature and this is a protected area, so everything remains intact."
The industrial part of Goirle goes back more than two centuries. Textile manufacturer Van Puijenbroek started his company and created several buildings, the most striking feature of which was an immensely large chimney. At these grounds, an old swimming pool, a bunker and a historic water treatment facility can be discovered. "The various walking and bicycle routes are a perfect way to discover all war remains and monuments."
Proud ambassadors of Goirle
The B&B's in the municipality are the perfect base to come back to after a lovely bicycle trip, a visit to the village centre or the local cultural centre. Horevoorts: "The accommodation is not average; the old monastery has been converted into a B&B, and a beautiful historic farm offers unique overnight stays." For the summer period, there are multiple camping sites where everyone can enjoy a holiday with their family.
Goirle has many ambassadors, all of whom love to talk more about the area to any visitors. They are entrepreneurs of the municipality and can be recognised by 'Goolse Geheimen' signs outside their businesses. And you should always feel free to ask them for the best secrets to Goirle. Horevoorts concludes: "Goirle and Riel have a lot to offer, but not many people know how extraordinary the area really is. We are all very proud of the unique elements and want to share our best tips."
Activities in the municipality of Goirle:
Nieuwkerk golf course
This nine-hole golf course is surrounded by beautiful nature and regarded as a wonderful hidden gem by many golfers in the Netherlands.
Climbing and adventure forest
Challenging climbing courses between the treetops for everyone above the age of nine. There is even a wheelchair accessible altitude course.
Shopping:
The centre of Goirle presents fashion for all ages, various specialty shops and a lively hospitality industry.
Cycling and hiking
Several walking and bicycle routes show the beauty of the natural environment. All routes are available online.
Jan van Besouw cultural centre
This cultural centre offers an extensive and varied programme of performing arts, film and literature.
Cheese farm
Cheese farmer de Leyedaeler offers not only local cheese, but also provide excursions and workshops at the farm.
Spa Thermen Goirle
This spa offers the perfect relaxation for everyone. It also has a snow cabin to cool down in after the heat of the sauna.
Subscribe to Our Newsletter
Receive our monthly newsletter by email