Food and drink festivals in the Netherlands
TEXT: PAOLA WESTBEEK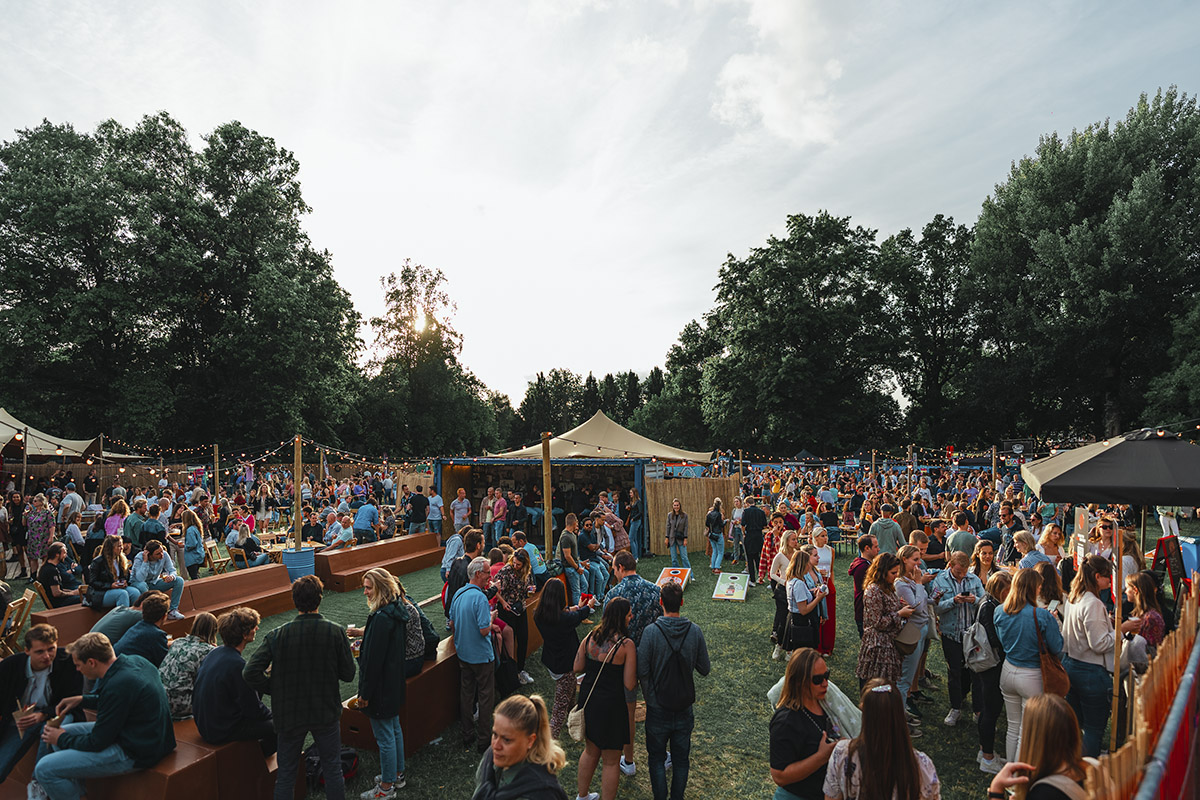 As soon as spring makes its appearance in the Netherlands, gastronomes all across the country start gearing up for the much-anticipated season of food and drink festivals. Almost every weekend means something to look forward to, whether you're in the mood for sipping Champagne to the sounds of chansons or tucking in to sizzling street food.
Once again, festival season in the Netherlands is alive and kicking this year, and it isn't just music fans who are in for a varied programme of events. Art, film and gourmet festivals are also part of the repertoire, with the latter gaining more and more popularity every year; and rightly so. Not only are these colourful celebrations of food and drink the perfect way to discover new tastes and cuisines while enjoying a pleasant, laid-back atmosphere, but most of them can be visited free of charge. You'll find hip and happening food trucks (some 2,500 in total, and counting) at nearly every kind of event, but there's no arguing that festivals focusing almost exclusively on pleasing the palate have a special flavour of their own.
A slice of history
Food and drink festivals started popping up in the early 1980s, and Preuvenemint in Maastricht was one of the first. The four-day festival, which will be celebrating its 40th edition this year from the 24 to 27 August, is the largest of its kind in the Benelux region, attracting upwards of 100,000 visitors. More than 30 restaurants and culinary entrepreneurs come together at Vrijthof Square – the beating heart of the southern Dutch city – to offer their best creations, from cheese boards and freshly shucked oysters with mignonette sauce, to golden frites dressed up with truffle mayonnaise. There's no shortage of entertainment either, with bands and DJs taking to the stage and playing until the late hours of the evening.
Many food and drink festivals have followed in Preuvenemint's footsteps, and though most can't boast such a long history, they all have something unique to offer. TREK (meaning 'appetite' in English), is one of the largest gourmet gatherings certainly worth checking out. From May until September, roughly 35 food trucks make their way through eight cities in the country, settling at beautiful parks with offerings that include everything from Dutch 'poffertjes' (mini-pancakes) to Italian antipasti. A golden oldie, celebrating its 15th edition this year from 17 to 21 May, is Rollende Keukens, held at the Westergasfabriek, one of Amsterdam's most bustling hotspots.
According to Festival Atlas, a website publishing information and statistics about the country's festival landscape, the majority of food and drink festivals take place between the months of May and September, with major cities such as Amsterdam, Rotterdam and Utrecht hosting the most festivals.
With hundreds of food and drink festivals to choose from, it's no easy feat deciding where to go and what to try, so we've rounded up a selection for you. Get ready to work up an appetite, because this season promises to be delicious!
Taste of the city
If you're considering a trip to one of the major Dutch cities, why not plan it around these popular food and drink fests? Taste of Amsterdam, for example, lures connaisseurs to the Amstelpark around the beginning of June with more than a hundred artfully prepared dishes showcasing some of the capital's leading restaurants, not to mention exciting culinary workshops given by renowned chefs. Haarlem Culinair, which takes place in early August over the course of three days at the Grote Markt, is a chance to get acquainted with a selection of the city's best restaurants. And while Rotterdam is famous for its flamboyant architecture and impressive skyline, the Maas city's gourmet offerings are also quite impressive, so make sure to also include the RotterdamseKost festival in your itinerary. Finally, Smaak Festival Groningen, scheduled to take place this year from 6 to 9 July, will prove that the northern Dutch city (known for its spice cake, mustard and genever) is a top-notch food destination.
Sip on this
While most festivals tend to be centred around food, there are also those exclusively dedicated to drinks. If sniffing, swirling and appreciating the finest vintages is your thing, it's good to know that there are wine festivals aplenty, giving you the chance to broaden your oenological palate. Not to be missed is the Bacchus Wine Festival, held during six days in June at the Amsterdamse Bos. The spotlight is on more than 300 wines (from old-world classics to new-world gems) which can be enjoyed with burgers, steaks and great music. Het Wijnfestijn, held this year from May to August in six Dutch cities, is also worth discovering. Each edition features approximately one hundred excellent wines which can be paired with sumptuous cheese and charcuterie boards. For a sparkling celebration, head to Amsterdam's Rembrandtpark during Ascension Day weekend and feel transported to 'la douce France' as you clink glasses at the Fête du Champagne et Vins.
Of course, wine and bubbles aren't the only festival-worthy drinks. Beer lovers will want to make note of the TAPT Festival (only open to adults aged 18 and up, with the exception of the Sunday edition in Utrecht), scheduled to take place from May to September in seven cities. Fancy sampling some of the most elegant gins and rums? A ticket to the Gin and Rum Festival (from €22 to €27) will buy you a glass for tasting the more than 100 spirits on offer. The festival will visit four Dutch cities this year, in April and May.
The most distinctive
Most food and drink festivals give visitors the chance to taste a wide variety of delights, but there are also smaller gourmet festivals that are more specialised, focusing on a particular cuisine, product or style of cooking. Among them are the Tapas Festival, scheduled for 20 May at the DOK Amsterdam City Beach; the Funky Vegan Festival hosting its fifth edition the following day at the same location; the Japan Light and Food Festival, which will take place in Amsterdam on 20 and 21 May; and the Pizza Lovers Festival, organised on 13 May in Apeldoorn.
More information (including exact dates and locations) about all the festivals mentioned here can be found online. And to think that is but a small selection of the myriad ways you'll be eating, drinking and celebrating in the months ahead!
Subscribe to Our Newsletter
Receive our monthly newsletter by email