Towards the future of furniture
TEXT: PAOLA WESTBEEK | PHOTOS: ANNEGIEN VAN DOORN
It's no secret that Dutch designers have managed to secure worldwide recognition and put the Netherlands on the map with their fascinating work. In recent years, these talented creatives have also been looking towards the future and seeking new ways of merging design with sustainability.
One of these forward-thinking figures in the world of Dutch Design is Ineke Hans. An acclaimed product and furniture designer, Hans studied 3D design at the Hogeschool voor de Kunsten in Arnhem and graduated with an MA in Furniture Design from the Royal College of Art in London. Her impressive portfolio boasts work for names such as Habitat, Iittala, Magis, Royal Ahrend and Royal VKB. Most recently, she partnered with Circuform and created REX – the Netherlands' first chair with a refundable deposit and the winning product at the 2022 Dutch Design Awards.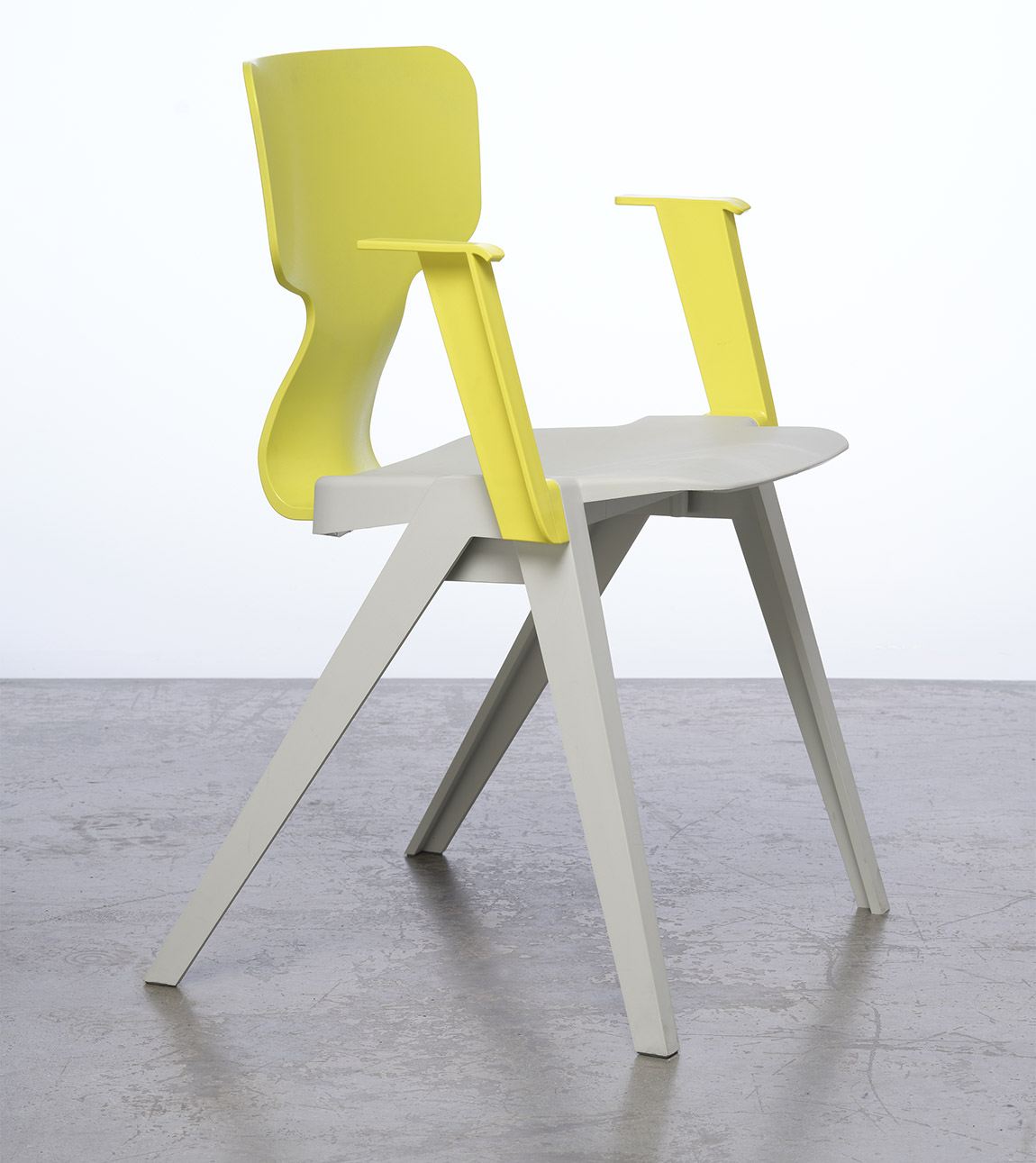 If you consider that according to the latest numbers, approximately 247 million kilograms of furniture gets thrown away in the Netherlands alone every year, it's evident that we need to rethink our use of these everyday objects. Whether a chair or table is replaced in lieu of the latest interior trend or simply because it was not built to last, much like clothing, 'fast furniture' is ending up in ever-growing landfills. With REX, Hans is resolutely distancing herself from the take-make-waste economy which is wreaking havoc on our planet. REX – made through the process of injection moulding using recycled nylon and PA6 (a thermoplastic used for fishing and cargo nets, office furniture and other industrial waste) – comes with a guaranteed refund of €20. If the chair no longer suits your taste or shows too much wear and tear for your liking (though it's built to last a lifetime), you can simply bring it back. REX has been lauded with numerous awards (including this year's Green Product Award) and is part of the collection of five museums (Vitra Design Museum Weil am Rhein, Neue Sammlung München, Design Museum Ghent, Stedelijk Museum Amsterdam and Museum Boijmans van Beuningen Rotterdam). We spoke with Hans, who currently divides her time between Arnhem and Berlin, where she is professor of Design and Social Context at the University of Arts in Berlin.
Last October REX won the Dutch Design Awards. Can you tell us more about the chair?
I actually designed REX back in 2011 as a product from recycled materials, but production problems meant it never really got off the ground. The company involved saw it only as a concept project and never invested in proper tools for production. This turned out to be a big mistake when the chair won awards and was requested for major projects. By then, the financial crisis meant that they did not have the budgets to invest in the proper moulds. Luckily, the design was picked up by Circuform (a Dutch label that only produces industrially designed, circular furniture) and relaunched in September 2021. As a start-up, the three of us [including Circuform founders Sander van Doorn and Richard Westerhof] were able to produce and market the chair as I had originally intended, adding an extra layer to it: the deposit system.
These days, furniture isn't always used for long. People will get rid of something simply because they don't like the colour anymore. REX can be returned to designated collection points when you no longer want it. If the chair is still usable, we'll clean it or even repair it. If it's in really poor condition, we'll shred it and use the materials for a new production.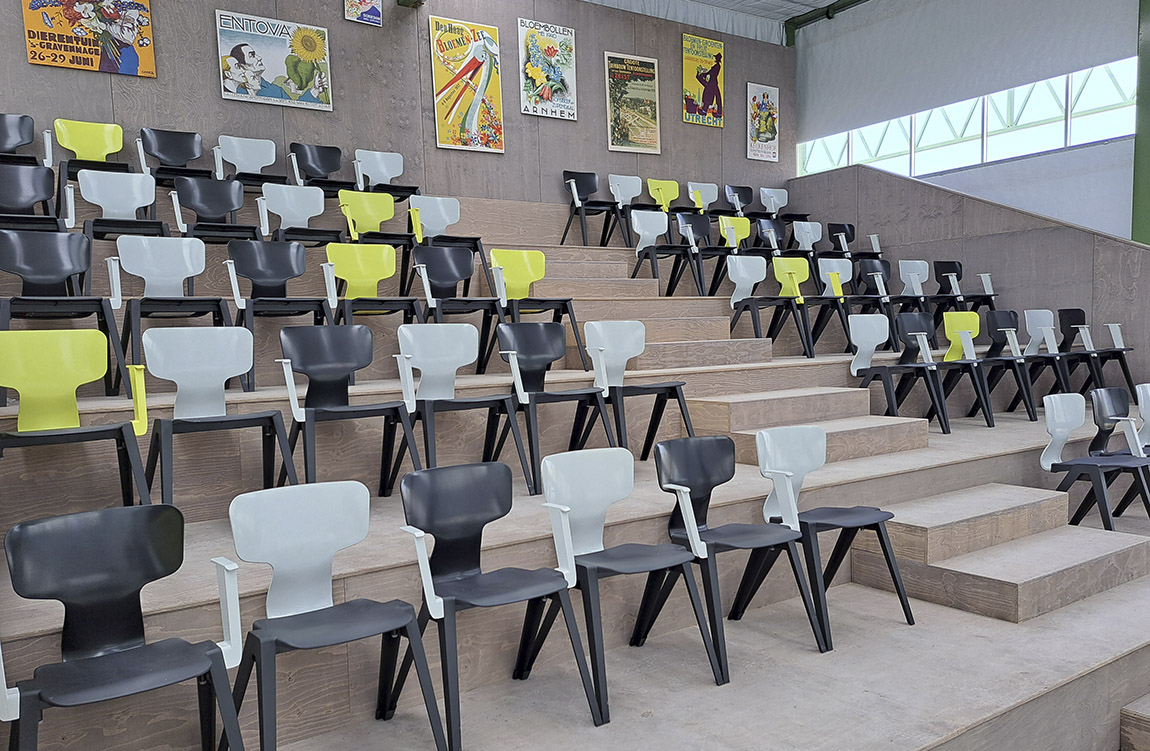 When you think of plastic, however, sustainability isn't the first thing that comes to mind.
Ten years ago, approximately 8% of all plastic was recycled. These days it's only 18%, meaning there's still a lot of material that isn't used. It gets thrown away and burnt. We have been producing plastic since 1862. The first plastics were biobased [for example celluloid, made from plant cellulose and camphor] and used for luxury objects that were made to last. After the 1960s, however, plastic became a throw-away material. It's shocking, but 50% of the plastic produced in the past 160 years was made after the year 2000. This has a lot to do with our consumption patterns and the demand for plastic in things like food packaging.
It also has a lot to do with the way plastic is designed. If you're only willing to spend €10 on a poorly made plastic chair, you can't expect it to last long.
Is the chair comfortable?
Yes! It consists of two parts [the backrest and the seat and legs] and is therefore quite flexible, making it suitable for people of all shapes and sizes. It's also stackable and comes with or without armrests. Basically, REX was designed as a proper chair and can be used in many different settings, such as in project environments, canteens and at your kitchen table.
In order to make REX's concept clearer, we did a photo series [with visual artist and photographer Annegien van Doorn] explaining its circular aspect to the general public in a fun way and showing that it's more than just another ordinary chair.
Have you considered applying this concept to other types of furniture?
Yes, however, this requires a considerable amount of organisation. To give you an example, we don't sell the chair in countries where we don't have the guarantee that it can be returned. It also depends a lot on the materials. For REX, we use a mono-material, which makes things easier. When you're making furniture using various materials, it becomes more complicated. But this is definitely an example of how we can do things in the future.
Let's talk about your career a little. How did your interest in design come about?
It started at a very early age. When I was a child, during school holidays, I was always making new plans for my room and thinking about moving all the furniture around. I would make all kinds of drawings and then ask my dad if he could build those things for me. (Laughs) Back then I had no idea this was actually called 'design'.
Soon after starting art school, I switched to design. I really like to think about people and how they use things, or how the world changes, and how you can adapt to these new contexts with furniture and products.
Besides REX, is there something in your work that particularly stands out?
I've always been very interested in looking at how society changes and working with new materials and new ways of production. In 1997, I was already making furniture with recycled plastic and people were more focused on it being quite handy and sturdy than on its circularity. So the perception has changed. The furniture I made back then was already quite well received. I've always been interested in how you can use materials as efficiently as possible, and with as little waste as possible.
How do you think your work has evolved in the last few decades?
Things have become much more complex. I'm very interested in the context in which objects have to perform and how I, as a designer, can help by changing production or selling methods.
What inspires you?
Everyday things, or the way people behave. Fifty years ago, for instance, people were still sitting down to dinner at the table, whereas now they're eating while watching TV or series online. You can also design with those changes in mind. When women got married, they were gifted a set of cutlery with 12 forks, knives and spoons. That's not the norm anymore, which means that the whole cutlery industry has also had to rethink what they're doing. I find these changes, the anthropological aspect, extremely interesting.
What does the future have in store for Ineke Hans?
I've been banging on doors for the last 12 or 15 years and talked to so many companies, insisting that we look at the production of furniture and products in a different way. It's great to see how REX has been picked up so much, and to realise that perhaps it is possible to do things differently. I hope that what we've done with REX can evolve and that this will be my path, not only as a designer, but also keeping in mind what the world of products should look like. I would like to actually contribute something and not just 'make'.
Subscribe to Our Newsletter
Receive our monthly newsletter by email