FCM Architects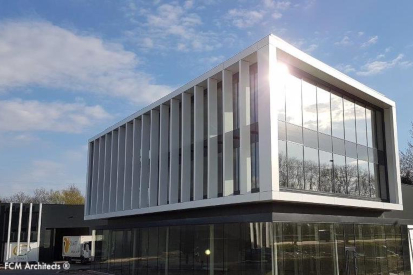 Projecting Creative Experiences into the Future
TEXT: LORENZA BACINO | PHOTOS © FCM
Brussels-based FCM Architects prides itself on going the extra mile with each and every client. FCM meets the challenge head-on by taking the initial concept and pushing the boundaries to ensure its clients get the most from their investment.
"We seek to understand the bigger picture and transform obstacles into opportunities. By using our more than 25 years of experience, we take a long-term view of client's investment and use our creative vision to take it a step further," explains founder Thierry Martin.
Architecture with a difference
Thierry Martin says that FCM Architects makes sure a construction or renovation project remains sustainable and relevant into the next decade. With an extensive and long-standing track-record of high-end showroom construction for several car manufacturers, including Jaguar, Land Rover and BMW, FCM combines cutting-edge technology with client services, demonstrating a clear understanding of a brand's DNA.
"We listen, digest and follow the initial briefing, but we believe that architecture is about more than just design. It's about giving something unique. This is what we do," he says.
The philosophy
The FCM team has a wealth of architectural experience and offers helpful guidance each step of the way, from conception to the final design and construction of the original idea.
"We want to understand the final goal of each of our projects," explains Thierry Martin. "Our scope is wide-ranging and each building or renovation is unique and has its own 'raison d'être'. It's our job to understand that and capitalise on the initial goals through our creativity. We challenge that initial target and we challenge the short-term vision and transform it into something durable. This is our strength. Understanding is not enough, we want to challenge, and push through the inevitable constraints that come with designing urban architecture."
Vision
By its own admission, FCM seeks to push the boundaries, but its architects never lose sight of the initial concept. "Our vision is to make sure the final design reflects our client's identity and ideas perfectly, whilst at the same time, taking into consideration the limitations of each individual project," says Thierry Martin.
"It is our added value to find solutions. Our aim is to reflect the identity of the client but our vision is to project that idea into the future. We have built a number of long-standing and ongoing relationships with clients based on mutual trust and respect. We treasure these as they increase our knowledge and experience."
Urban experiences
FCM Architects is a company that maintains a human touch even when involved in large-scale projects. FCM's know-how ranges from the conception phase of a new build, to the conversion and revamping of historical sites and spaces and the development of innovative commercial projects.
They are particularly proud of their Bella Vita project in the Waterloo area of Brussels. This project involved the regeneration of an entire abandoned neighbourhood on the site of a former Farm School and the renovation of historic buildings. It took the best part of a decade to complete.
"We aimed to maintain the historic aspect of the site, but we wanted to transform it into an 'inter-generational' village with amenities for both young and old. We believe we succeeded very well in this endeavour which included the creation of 182 flats and 87 houses, as well as various facilities, without losing the identity of the old site."
Interior design
FCM Architects was also involved in the renovation of Radisson Blu in Antwerp and gave it a complete interior design makeover, for all 255 rooms.
"We saw the refurbishment more as an 'experience' than as a redesign. We sell the product when we work with car showrooms, but we are also strong at selling experiences. In this case, it was a response to the ever-changing needs of travellers today, combining the right tools with the idea of efficiency and wellness too and maximising creativity and communication at work and during leisure time."
How FCM works
Before taking on a new project, FCM will undertake preliminary studies to better understand the nature of the project. "We'll look at your project idea both from the visual and technical perspective, so we can analyse the feasibility," explains Thierry Martin. "Then we'll help you come up with a concrete concept and idea which will be fine-tuned along the way according to its specifications."
FCM has long-standing relationships with selected suppliers, making the whole process as smooth as possible, all the while ensuring transparent and extensive communication channels for all clients.
"We want our interiors to be welcoming yet professional – a veritable haven of serenity in an urban context." FCM's expert team is always on hand to tackle new challenges. Language is no obstacle either, as FCM works in French, Dutch, English and more – making for some truly internationally-minded offices, located in the heart of Brussels.

Web: fcmarchitects.be
Subscribe to Our Newsletter
Receive our monthly newsletter by email