epure Architects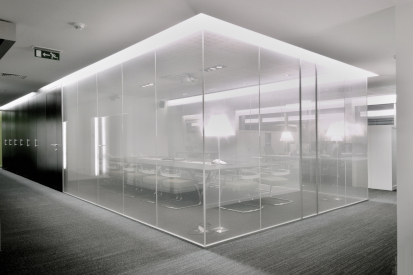 Designs focused on wellbeing and functionality
TEXT: NDÉLA FAYE | PHOTOS © EPURE ARCHITECTS
Based in Brussels, epure is a versatile architectural firm, founded in 1998. The company's contemporary approach to architecture is innovative, and offers clients tailor-made solutions that fit the surrounding environment. With projects spanning from Belgium to Luxembourg, France, the Netherlands and Egypt, epure's portfolio covers everything from offices to retail spaces, housing complexes and private homes.
At the forefront of epure's values lies a belief in creating a strong relationship with clients, which they consider to be key to the success of any project. "As a result, whatever size or type of project we are involved in – housing, offices, retail spaces, renovation or construction – our approach is always the same: to work closely with our clients," says Christophe Bichara, epure's owner. Ranging from big name clients to individuals, no job is too big or small for epure Architects. "Maintaining a confidential and intimate relationship with our clients is of utmost importance to us. This has allowed us to work on several high-profile projects, as well as many smaller ones," he adds.
Combining function and wellbeing
The firm's designs always take into consideration the functionality of the space in question, and the user is the focal point in all designs. "We are detail-oriented, and it is our job to highlight issues and finer details. Everything serves a purpose, and we do not do any useless designs. In offices and housing, people's wellbeing is the main focus. For example, in an office, gaining an understanding of how people within the company work, will determine how we will organise the office space: whether to have an open-plan office, or individual cubicles, or to group some departments together. This is only possible when clients have complete confidence in us. It will also guide us in choosing which departments are put next to each other, which can have a big impact on work satisfaction and productivity – something that might not be immediately obvious to outsiders. It is those tiny details that we are able to spot, and we make design recommendations and decisions based on those," Bichara explains.
Environmental sustainability is always taken into consideration when it comes to choosing materials. In renovation projects, epure Architects aim to keep and reuse as many materials as possible, and whenever possible, they favour sourcing wood, glass and stone from somewhere as close to the site as possible, for example, rather than shipping it from halfway across the world. "We are always looking for new solutions and developing new technologies to answer each project's specific needs. Architecture should also respond to environmental imperatives, and integrate sustainable development in the design and development process – and that is exactly what we do," Bichara states.
Changing attitudes through design solutions
One of the firm's most notable works recently was the refurbishing of the headquarters of the Aliaxis group, in the centre of Brussels. The 4,500-square-metre space proved to be a challenging project: "We needed to transform the existing structure, made up of individual offices, into a new open-space organisation, in order to improve communication within individuals and departments. We wanted to create a comfortable space that was fully functional and fit for purpose. The spatial design and integrating the company's branding into small design details, such as the lighting fixtures, was a big undertaking – and one of our projects we are most proud of. Initially, there was some apprehension from the employees about the change – but in the end, every single one of them was pleased. Offices are fascinating places: with small architectural details, it is possible to completely change people's attitudes," Bichara says.
With another large, exciting project in the pipeline, the team at epure have their hands full. They are involved in a high-profile housing project in Brussels. "It will be a vertical village, that will combine retail, offices and housing – all in one building. This is a very exciting project, as it experiments with co-working and co-living spaces, is aimed at young people as well as the elderly, and the housing will cater to low-income as well as high-income individuals and families," epure's owner says.
"Our number one focus is always the wellbeing of people: whether it comes to an apartment building or office, the focal point is always the individual. Because of our close rapport with all our clients, we are able to offer tailor-made, user-friendly solutions to all projects, and ensure all client needs are met. Due to our extensive expertise and focus on every minor detail, from design to completion, we are able to cater to various projects – and share our passion for architecture with everyone," Bichara concludes.

Web: epure.be
Subscribe to Our Newsletter
Receive our monthly newsletter by email