Ector Hoogstad Architecten: Building knowledge centres for the future
Text: Eva Menger | Photos: Petra Appelhof
Sightlines, traffic flow and parking spaces are all terms typically associated with road design, but they are equally prevalent in architecture. "It's elements like these that allow us to think practically about the way in which people move through a building, and ultimately, that is how we can create designs that encourage interaction," Joost Ector, architect and partner at Dutch firm Ector Hoogstad Architecten explains.
With their innovative and forward-thinking designs, Ector Hoogstad Architecten is widely known for creating knowledge landscapes that offer space for reflection, collaboration and exploration. This tradition started 60 years ago when architect Jan Hoogstad founded the firm in a post-war Rotterdam. Playing a crucial role in rebuilding the city, Hoogstad set a trend for creating buildings that contribute to a better world. "This idea is still very deeply rooted in our work," Ector confirms. "In its ability to unite, architecture can encourage people to move forward and build a future together."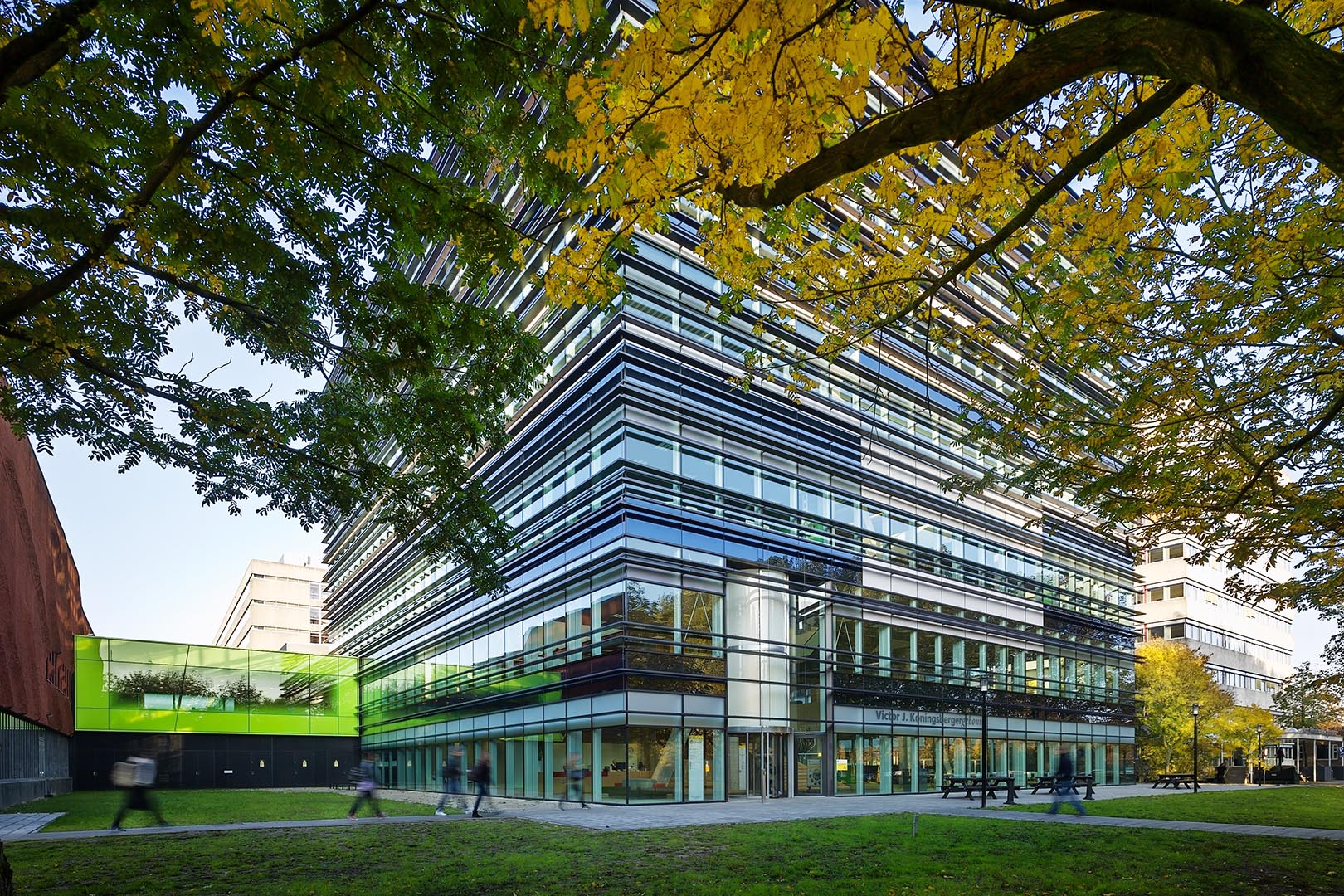 Fostering knowledge sharing
Ector: "The layout of our buildings invites people to collaborate and communicate with each other. With sightlines, we create visibility into what people are working on, and by carefully directing traffic flows we make sure that people from different departments make contact. Parking spaces, by which we mean areas where people can casually sit down and chat after they went to a class or bumped into each other, stimulate conversation and knowledge sharing. Features like these will help people rise above themselves, both individually and collectively."
The passion that Ector Hoogstad Architecten has for innovation is visible in all their designs. Their building techniques are state of the art, and the firm is one of the front-runners when it comes to sustainability and circularity. "We're also used to working on complex projects and like to stay on top of everything we do," Ector explains. "Working with the latest 3D design tools and other advanced technology allows us to take control and makes us a very reliable partner."
A place to stay
The University of Utrecht approached Ector Hoogstad Architecten as they were looking to build a new education centre focused on collaboration. "Before the Victor J. Koningsberger building, they didn't have anywhere for students to connect outside of the classroom," Ector tells us. The building houses the faculties of geoscience, beta science and medicine and also functions as the university's main meeting centre. Offering students, teachers and researchers a comfortable and inspiring place to work, the centre has been busy from the moment it opened its doors.
Central themes in the Victor J. Koningsberger building are light, openness and transparency. A huge central atrium spans the height of the entire building, with spacious steps offering access to each floor and an eye-catching roof letting in warm, evenly distributed light. Its transparent facades give the building an iconic look, but more importantly, allow for sustainable light, heat and energy use.
Innovation
Businesses, authorities and educational institutions in the Netherlands are working together as part of the so-called triple helix. Innovation is their collective aim, and the new Center Court of Brightlands' Chemelot Campus is here to facilitate that. It has become the heart of the campus, with users including university departments, offices and learning labs, as well as restaurants, gyms, meeting rooms and shops. It's an inviting hub centred on connecting and sharing, which is why DSM chose it as the home of its R&D activities. The versatility of its many users has turned it into a great success.
Another example of such a hub is the Matrix VII incubator building in Science Park Amsterdam. Combining lab rooms, office spaces and various communal spaces such as lounges, a spacious restaurant and meeting rooms, this innovation centre is ideal for start-ups in ICT, life sciences and new media. It's located right next to the University of Amsterdam's new beta faculty and offers top-level facilities for emerging businesses in chemistry and biotechnology. With floors divided into portable units, the building's layout is incredibly flexible.
The building was also designed with sustainability in mind. The façade lets in plenty of daylight but prevents solar radiation from coming in, thus keeping the interior cool without the use of excessive energy. "We tried to think of ideas that can improve the sustainability of the building in a subtle and innovative way," Ector adds. "Subfloors are made of thermally modified wood that fights drought and doesn't rot, for example, and technical installations are hidden under a gold moss roof, which buffers rainwater and filters particulate matter from the air."
Whatever the team at Ector Hoogstad Architecten does, they make sure that innovation is at the heart of it. "We're defined by the knowledge processes that emerge when people meet, and we want our work to show that when people join forces, there's no limit to what they can achieve."
Subscribe to Our Newsletter
Receive our monthly newsletter by email