Ebtca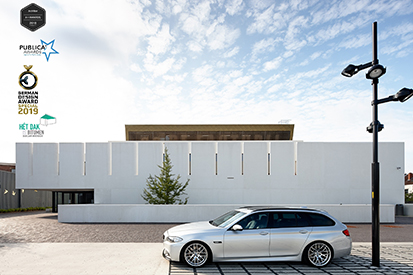 The entire cultural spectrum under one modern roof
TEXT: ARNE ADRIAENSSENS | PHOTOS © F. COOLS & D. DE SMET
Zaventem, a village in the shadow of the mighty traffic hub of Brussels Airport, was in desperate need of a new cultural meeting spot for its local community. Multidisciplinary architecture studio, ebtca, was up for the challenge and created an award-winning, creative oasis, just a stone's throw away from the tarmac.
Zaventem's new cultural centre combines, among other things, a library, a theatre, a party hall and a bistro. This treat of engineering proves that ebtca architects' formula works. As specialists in assembling the right team for each project, they were very suited to sinking their teeth into this complex undertaking. "Depending on the nature of the assignment, we attract some of our many contacts to work alongside us," co-owner Tom Caluwaerts explains. "Engineers, designers… This way, we can offer our clients a tailor-made team." With every job they take on, ebtca architects starts from scratch, keeping a safe distance from standardisation. "We always strive to make each structure smarter and more efficient than the last. Whether it is a house, a school or a retirement home."
While designing cultural centre De Factorij, they have gathered 18 different experts to investigate the challenges and peculiarities of the project and how to tackle them. Once the construction started, their team grew to over 150 people. "That was a big undertaking, but it led to a satisfying result. Especially the theatre can count on much praise. For many artists, De Factorij is number one with a bullet on their list of places they want to play because of its next-to-perfect acoustics." Due to their passion for integrated 'total' architecture, they managed to implement all reflecting and absorbing materials into the original structure. That requires more time and precision while designing, but results in beauty and harmony. Many judges of architectural awards who have added the building to their shortlists confirm the wonderful uniqueness of the result.
In Zaventem, the biggest hindrance was the sound of the ascending planes and passing trains and cars, which could not be noticeable in the theatre. "We chose to combine the advantages of building partially underground with a box-in-a-box technique. This way, the deafening noise is unnoticeable to the spectators. It's low location also insulates the building, giving it a constant temperature of 15 degrees. That is great for the environment as well as for the cultural temple's chequebook."
Subscribe to Our Newsletter
Receive our monthly newsletter by email