De Architekten Cie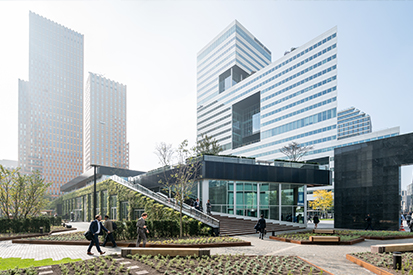 Architecture and social sustainability
TEXT: EVA MENGER
Amsterdam-based architectural firm de Architekten Cie. B.V. highly values its users: the way in which users interact with their buildings is what mostly drives their design processes. In addition, they are focused on sustainability, but rather than this being a separate value, they believe the two are closely connected.
Partner Pero Puljiz, who joined the firm in 1991, refers to this concept as social sustainability: "People are increasingly interested in social spaces. The latest generation of employers collaborate much more than what used to be normal, and this calls for new ways of thinking about how offices should be laid out." In terms of technical sustainability, Cie. has been a pioneer in the implementation of circular development. 'Circular' refers to a building whose state is not finite: they are built in a way that ensures all materials can be recycled, which means that parts of the building can be easily adapted in the future without needing a full rebuild.
The first time they were able to test the techniques behind circular development was with the new ABN AMRO headquarters, aptly named 'Circl'. "We always knew that it was possible in theory, but the ABN AMRO Group gave us the opportunity to investigate whether it would work in practice," associate designer Eric van Noord says. Equally important, however, was the social aspect of the building. ABN approached Cie. as they were looking to develop a more social corporate identity, which ultimately, is what the pavilion has come to manifest.
"We wanted the building to look both warm and accessible for passers-by, so we used glass to create a more open space, and warm materials to increase the inviting atmosphere," Puljiz explains. "The office is now a public meeting space. Everybody is welcome to unwind in the café, have dinner in the restaurant, or enjoy the view from the intimate roof terrace," van Noord adds. Blending-in city dwellers with ABN staff was the aim of the building, and Cie. has made that possible enacting their principles on social sustainability.
"Another thing we have done to emphasise the social aspect of work is by letting ABN employees play a role in the development of the building," Puljiz says. "To optimise the acoustics of meeting rooms, we ground-up hundreds of old pairs of jeans which we then used to cover the ceiling. As those jeans were all given to us by ABN employees, it has given the building a more personal story." All the materials used for the pavilion are recorded in a 'building passport', which includes everything from the initial digital drawings to the way in which materials were sourced and how they should be treated.
After Circl turned out to be a success, Cie. continued to design circular buildings. Take the Galileo headquarters, for example, which was briefed, designed and built in under a year. "It was a small competition, which we really won by thinking critically about what was realistic and feasible," van Noord explains. In choosing materials and construction methods that could be pre-made in factories, Cie. limited the risk of on-site construction errors and subsequent delays as much as possible.
The building has modest openings facing the street, creating a homey atmosphere inside. "Most Galileo employees are international, so we really wanted the office to be their home-away-from-home," says van Noord. "Another special feature is that the building's energy consumption is fully conserved by the company's server data. The heat generated by servers needed for the type of work that Galileo performs, is used to generate electricity for the entire building."
The concept of circular development can also be applied when renovating existing buildings, which Cie. has proven with their EDGE Olympic office design. What used to be a mail sorting space was stripped down completely and then recycled. Puljiz: "We tried to create as much space as possible within the constraints of the existing skeleton. Using lighter, wooden constructions, we were able to add two more floors on the top, which we then made completely transparent to let in a host of natural light. The inside of the building is welcoming yet simplistic, giving users the opportunity to tailor the space to their own needs."
Celebrating their 30th anniversary this year, de Architekten Cie. are experts in everything from urban development to housing projects and office buildings. And with four different partners each overseeing a share of the portfolio, they are able to offer a range of architectural styles and endless creativity.
Subscribe to Our Newsletter
Receive our monthly newsletter by email