Dam & Partners Architecten: Catalysts for adventure
Text: Frank Van Lieshout | Photos: Dam &Amp; Partners Architecten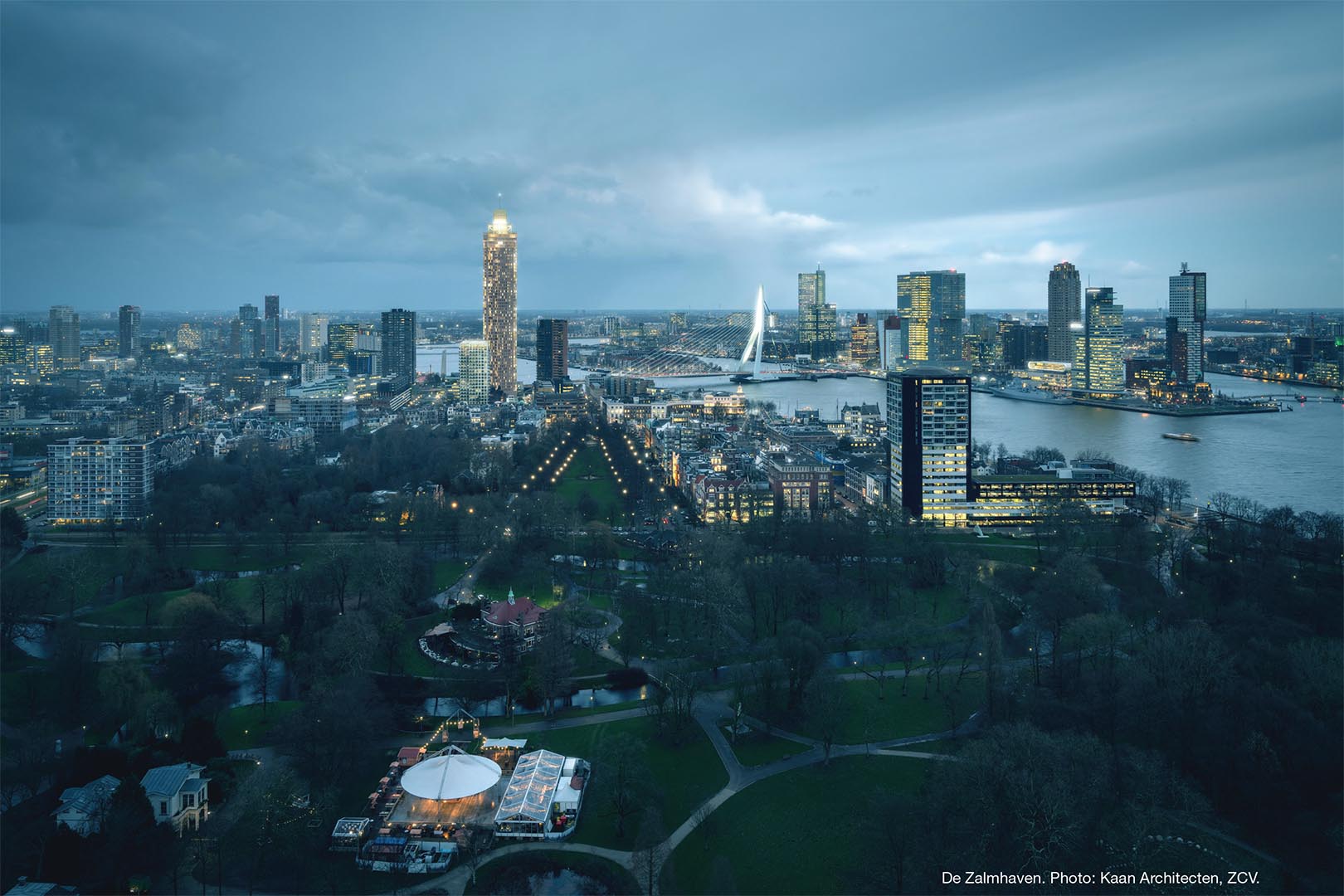 'Starchitects' against their will, father and son Cees and Diederik Dam hold fast to their design principles of comfort, commitment and freedom. "It's about creating beauty in its entirety."
Started in the 1960s as Cees Dam Architects and renamed Dam en Partners Architects in 2002, father and son Dam have, under different guises, been responsible for a wide range of projects, stretching from complex urban developments, theatres, town halls and hotels, to luxurious residential homes, interior design and furniture.
Cees Dam has been a household name in Dutch architecture for more than five decades, famous for iconic buildings such as the Amsterdam Opera and City Hall, the Optiebeurs building (now the home of Dutch daily newspaper NRC Handelsblad) and the House of the Future. Since his son Diederik joined in the 1990s, their firm have handled some of the most prestigious projects in Holland's modern urban landscape, including the country's two tallest towers, Maastoren and Zalmhaventoren in Rotterdam, as well as Almere Town Hall and, most recently, the Hourglass Building in Amsterdam's Zuidas financial district.
Icons
Yet, despite their impressive output of unmistakably iconic buildings, both father and son Dam ironically have a real problem with the current demand for 'iconic'. "Every time we are approached for the design of a large office project, one of the first demands on the list is that it must be iconic," Diederik explains, of his frustration. "Don't get me wrong, there's nothing intrinsically bad about a building being an icon, but first of all, the environment needs to lend itself to such a building – for instance, Amsterdam's Eye Film Museum on the banks of the IJ, or the Maastoren on the banks of the river Maas in Rotterdam – and secondly, it needs to be more than just iconic, it needs to do more than just shout 'look at me!'."
"Iconic for iconic's sake is an empty shell," adds Cees. "Look at Frank Lloyd Wright's Guggenheim Museum in New York. They don't come a lot more iconic than that, but it was never set out to be iconic, it just is. The cylindrical form is functional and the building fits in perfectly with its physical environment. This is how it should be done, a textbook example of great architecture."
"Likewise, our Hourglass Building did not spring from a sudden flash of inspiration to design a building resembling an hourglass," says Diederik. "Its shape is the result of a functional design to stack a mix of different sized hotel rooms and office spaces. It's not empty form, but a building that actually adds something new to the urban landscape."
Comfort
Rather than flying to the far corners of the world to sell their flash designs to the big corporations like some of the current breed of starchitects do, Dam en Partners choose to stay true to their trusted architectural design philosophy centred around their rich notion of comfort.
"Comfort is about a subtle interplay of space, materials, light, sounds and smells, which together are perceived as pleasant and luxurious, bringing enjoyment and wellbeing," Diederik explains. "Our firm's work is very diverse and very contextual, and Cees and I are also very different types of architects – I am more analytical and strategic, while Cees has a more intuitive approach – yet despite all this, throughout all our designs, the common thread running through them has been our constant search for what we have dubbed 'comfort'."
Art
"Comfort has many layers, and the search for it is like a great adventure," Cees points out. "First and foremost, comfort means creating an intrinsically poetic environment that provides room for personal expression and interpretation, a flexibility and a sense of abundance that lend the user the freedom to use and perceive the space according to their own needs and insights. It is almost like chasing a dream. In order to find the right balance between all the elements, the mediation between the interior and the exterior, the relationship to the environment, you need to use not just your standard architectural skills, but the whole of your emotional range, your intuition and experience, as well. This is why architecture will always in some way be rooted in tradition and craftsmanship. And why things like art, theatre and ballet are such an inspiration to our work. Art takes you away from this fleeting world. It protects you against the chaos of everyday reality and gives you focus and direction."
Social process
"And we need art to take the client along on this journey, to hold a mirror up to them and show them the possibilities they might otherwise not have dared dream of," Diederik argues. "Architecture is not about some genius creating a brilliant solution to everything in splendid isolation. It's a social process involving the architect, the client and other stakeholders."
In this process, Dam en Partners see it as their duty and mission to be involved from start to finish. "Together with our own engineers we make sure that the original idea is not lost somewhere along the way", Diederik continues. "This is something you can see happening more and more in modern architecture: architects reducing themselves to ad men peddling a very superficial representation of what architecture is, reducing design merely to the look of a building and surrendering their responsibility to guide the project end to end."
Adventure
"The ideal situation is where you can take one person along on this adventure," Cees adds. "Personally, my most successful and most beautiful buildings have been my designs for private homes, because you build a real connection with the client, and together you get to where you want to be. And when you have finished the project, you know you have made a real and positive difference."
"Ideally, this is exactly how the process should work for large-scale projects, as well," Diederik chimes in. "Of course, considerations like green solutions for a cleaner environment are also important. We have been working with new environmental techniques for years, we even won a prize for the installation of a heat pump in one of our buildings as far back as 25 years ago. But all of this will never be as important as claiming our role as catalysts for adventure, creating buildings that will stand the test of time. Because that, to my mind, is true sustainability."
Subscribe to Our Newsletter
Receive our monthly newsletter by email