Controlled Chaos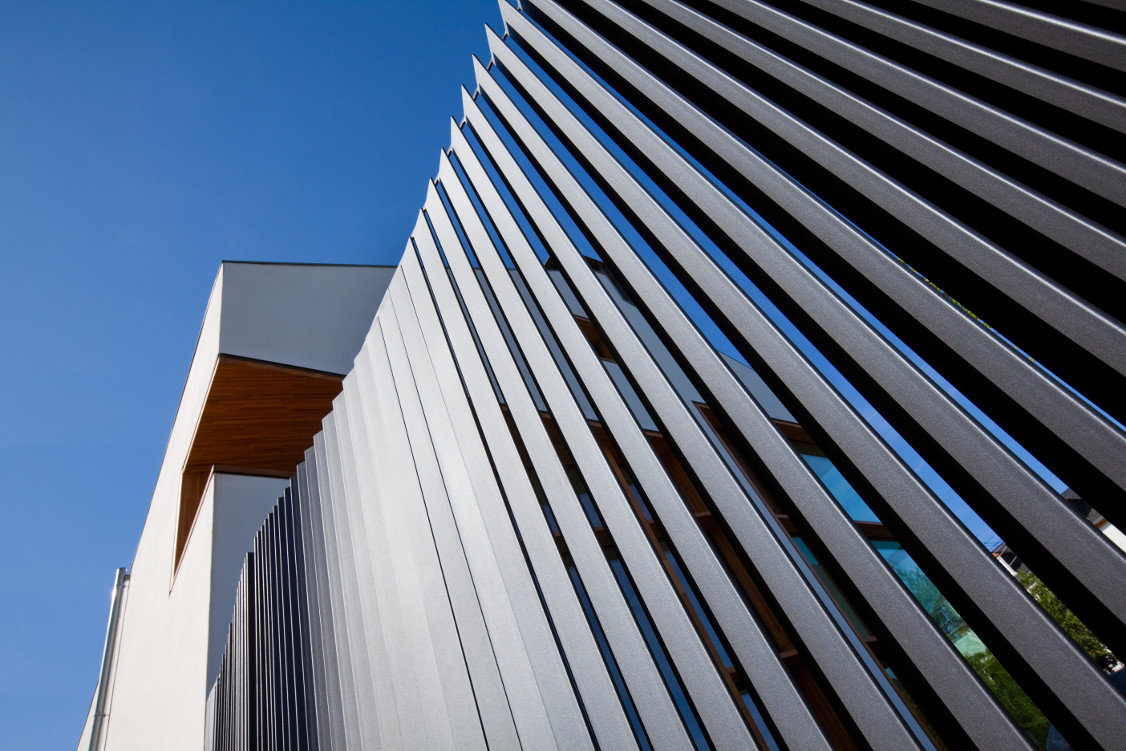 The Luxembourg-based architects of architecture WeB like to throw a little bit of asymmetry into the architectural mix. The results are stunning as well as practical buildings that really deserve the labels of modern, convenient and environmentally friendly.
"Architecture is a form of art that is bound to functionality," explains Jean- Claude Welter, associate architect at architecture WeB. "This is something we try to take into consideration for each of our projects. We always focus on the buildings' proportions and thus develop specifically detailed solutions for every project." Is asymmetry merely an aesthetic feature or does it serve functional purposes, too? "There is a saying that asymmetry is good for the soul," illustrates Welter. "With carefully measured asymmetric elements in the mix, new and interesting perspectives are developing with regards to the proportions of a building. Plus, this design approach also enables us to better react to and enhance the natural environment of a building's site."
The all-rounders
Ultra-modern asymmetric homes are just one focal point out of architecture WeB's impressive portfolio of projects. This includes regional council offices, town squares, parks, playgrounds, war memorials, hotels and petrol stations. Furthermore, they have renovated churches and have taken part in competitions such as for a tower in Dubai or a new port area in Germany. The company also has an intriguing furniture design offering. Examples include a functional bench for the regional trekking trails or even a designer door handle in collaboration with Dorma. In the Luxembourg town of Grevenmacher, where the company is based, the creative team even reconstructed the town's old fountain, which is now a popular tourist attraction. For every project though, the architects who describe their style as "sculptural", follow the same procedure. "We don't rush through a project, but take the time necessary for a good conception," explains Welter when asked what sets his office apart from others. "Sometimes you have to make compromises, for example due to regulations set by the authorities, but the outcome needs to be a building of good quality and one that we ourselves would like to live in. It also needs to make us and our client's progress and develop further. That is our objective at all times." The little chaos mirrored in the asymmetry of many projects is therefore a very controlled process which architecture WeB carefully thinks through.
A head start on saving energy
"On the current architecture market it becomes increasingly important to consider a building's energy efficiency," observes Welter. A practical implementation of this concept is the so-called passive house, which is an international standard Applied to a building that runs on ultra-low energy supplies and thus significantly reduces its ecological footprint. The concept of a passive house can be applied to both Residential and public buildings as well as new or refurbished projects. Having recognised the importance early on, the creative minds at architecture WeB are nowadays regarded as leading experts in this field. "To stay up to date and expand our knowledge, our team continuously takes part in the newest trainings and courses regarding this subject matter," says Welter. "We also try to come up with innovative techniques in order to find the right balance between our architectural identity, the wishes of our clients concerning their quality of life and the ideal energetic conditions." This commitment has paid off: architecture WeB is now allowed to call itself 'certified passive house designer', a classification which was awarded to the company by the renowned Passivhausinstitut Darmstadt in Germany.
Looking ahead: the industry's future
Evidence that the architect's office is on the right track is mirrored in the various awards the company has won such as the Bauhärepräis, Stahlbaupreis or Prix d'excellence Fiabci. "It makes us proud to know if our project has succeeded both in terms of functionality and contentment by users and external parties," smiles Welter. The success story continues with the brand new office building that the architects moved into at the beginning of the year. visitors can marvel at the asymmetric masterpiece at open house days. For the architects themselves, their 'show house' offers the ideal environment to further refine their innovative ideas for the future. "We notice that computer-aided design becomes more important," explains Welter. "Another trend is that projects and infrastructure are getting larger in general." In this respect, the Luxembourg architects also occasionally take an admiring look across the channel: "British architecture makes great use of technical detailed solutions and increasingly implements sustainable architecture by means of the BREEAM concept."
Text: Sonja Irani | Photos: Steves Troes Fotodesign
Subscribe to Our Newsletter
Receive our monthly newsletter by email