Brussels: A first impression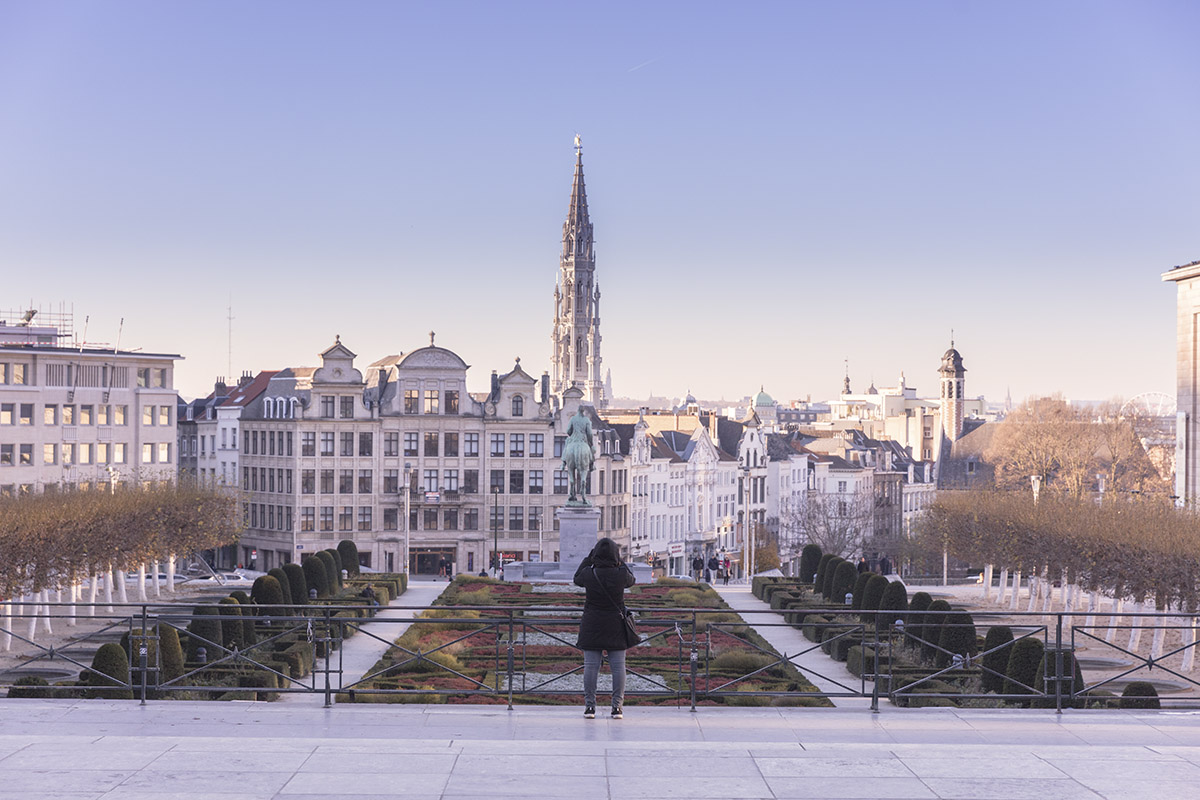 Arriving in a cultural melting pot like Brussels can be a bit overwhelming. Luckily, there are a few spots in Brussels that lend themselves perfectly to acting as starting points to give you a warm welcome to the city. This way, you can take the edge off your city-tripping appetite as soon as you have dropped your bags at your hotel.
Shopping in and around the city
If it is shopping that you are after, you've got plenty of places to go. For high-street brands, head for Rue Neuve or one of the nearby shopping centres: City 2 and Anspach Shopping Centre. Another lovely shopping paradise is the brand-new Docks Bruxsel. Here, you'll find your regular high-street fashion brands, as well as the White Cinema: a theatre entirely designed in bright white and fluorescent purple, as if it were a Star Wars spaceship. Unfortunately, this mall is a bit further away from the centre. For designer brands, Avenue Louise is the place to go. Along this busy avenue, you'll find household names such as Chanel and Louis Vuitton, as well as outlets of Belgian design heroes like Natan. If you are in the mood for some perusing and strolling, try Marché Aux Herbes and Rue des Fripiers, which are packed with adorable, fun shops.
Rue Neuve, City 2, Anspach Shopping Centre, Marché Aux Herbes and Rue des Fripiers are all close to Plaçe de la Monnaie (De Brouckere, metro 1 and 5). Avenue Louise is on metros 2 and 6, and Docks Bruxsel on tram lines 3 and 7. Shops are usually open from 10am to 6pm.
The medieval heart
ILÔT SACRÉ
Îlot Sacré, or 'the Holy Islet', as it could be translated, is a maze of medieval alleys and streets that form the most picture-perfect neighbourhood in the entire city. It only covers about eight streets and a handful of galleries, yet most tourist snapshots are taken right here. In the 1950s, when tourism in Brussels started to pick up, plenty of restaurants opened up here, all serving the legendary Belgian classics that foreigners like so much. The famous Rue de Bouchers in particular is a tourist hotbed. It is, therefore, hardly a surprise that Îlot Sacré isn't the place where you get the best value for your buck. Yet, a walk through its streets is an absolute must. Deep inside the maze of streets, you'll find Jeanneke Pis, the better half of the city's iconic peeing statue. This fountain of a peeing girl was placed here in 1987 by the restaurant owners in a quirky attempt to lure more tourists to their establishments.
Îlot Sacré can be entered through the majestic Royal Gallery of Saint Hubert or through one of the many alleys that enter the 'islet' from Marché Aux Herbes, Rue des Fripiers or Rue de l'Ecuyer (De Brouckere or Gare Centrale, metro 1 and 5). From the central Rue de Bouchers, you can enter most of the neighbourhood's side alleys.
Visit a brewery
CANTILLON
Think about Belgium, and you'll likely think about beer. A visit to Brussels is, therefore, not complete without a tipple or two. To fully immerse yourself in the country's centuries-old brewing culture, visit one of the traditional breweries. Brussels counts plenty of them, but most famous is the Cantillon brewery, the specialities of which are its iconic lambic, its sweet Kriek and Framboise, and plenty of other great brews. On Mondays, Fridays and Saturdays, you can join a 1.5-hour-long tour in English – but this excursion must be booked in advance. It takes you through the brewing halls, explains the path from barley to beer, and finishes with a tasting of the exquisite brews. At other days and times, you can visit the brewery on your own.
Rue Gheude 56 (Anderlecht) (Clemenceau, metro 2 and 6). €9.50 including guide and tasting; €7 for a self-guided visit (discounts available). Guided tours in English are available on Mondays, Fridays and Saturdays (timetables vary, see website). Self-guided visits are possible from Mondays through Saturdays (with the exception of Wednesdays) from 10am to 4pm.
Textbook authenticity and charm
MAROLLEN
Like in most cities, modernisation, gentrification and globalisation have had their effect on Brussels' so-called 'couleur locale'. Luckily, one iconic neighbourhood resisted these external influences and is still inhabited by a colourful mix of authentic Bruxellois: the Marollen. Since the Middle Ages, this area has been drenched in authenticity. To date, the central Place du Jeu de Balle fills with salesmen every morning, all aiming to sell their merchandise at the popular flea market. If you want to buy antiques after 2pm, you can still roam the Marollen's streets, as they are packed with 'brocanteries' and peruse-worthy antique shops. If you speak French or Dutch, you will also notice that the locals speak a tongue of their own, somewhere halfway between the city's official idioms. This peculiar language is one of the last remaining Brussels dialects.
Enter the district from the north-west (Bruxelles-Chapelle or Bruxelles-midi, most NMBS-SNCB trains pass here) or from the south-east (Louise, Porte de Hal and Hôtel des Monnaies, metro 2 and 6). Flea market daily from 6am to 2pm (to 3pm on weekends).
The best view in town
MONT DES ARTS
If there is one panorama in the city that you just can't miss, it is that of Mont des Arts. This stunning view (which also adorns this weekend guide's cover), is the perfect place for watching the sun rise, set or just shine upon the city. Centrally, you'll see the neo-gothic tower of the city hall, and in the distance, you'll spot the Koekelberg Basilica. Besides its stunning view, Mont des Arts is also known for its lush flower beds and the regal statue of King Albert I on his horse. Every hour, you can also enjoy the music of the carillon, which is hidden behind the giant clock that adorns the right-hand-side gate to the hill. In the evening, you'll hear many a jazz musician play the saxophone in the park.
(Bruxelles-Central or Parc, metro 1 and 6 or NMBS-SNCB train.) Accessible 24/7.
Subscribe to Our Newsletter
Receive our monthly newsletter by email