Argill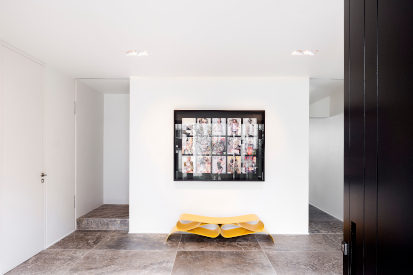 Sober lines, elegant aesthetics
PHOTOS © ARGILL

It is an art to bring the functionality and aesthetic of a space back to its most essential elements. It requires talent, passion and a critical eye that focuses on detail and leads to a harmony that the users will feel with all their senses. Gilles Frankignoulle, a charismatic Brussels-based architect and interior designer, has this particular ability to combine sober lines, contemporary design and versatile materials to deliver the required results.
"The lines we draw are pure, clean and modern, and by leveraging the use of materials, we manage to create warm and fluid space," Gilles explains. "People often ask what my style is. We use contemporary lines, while focusing on traditional materials that, today, offer a greater diversity of colours and texture."
The attention to detail and the broad expertise are what set Gilles apart. His company, Argill Architecture, has successfully completed numerous projects in Belgium and abroad, which range from the construction of new private houses to the renovation of existing commercial shops and span from the design of the entire concept to the construction of customised, built-in furniture. Well-known brands such as Dior and Louis Vuitton have trusted Argill Architecture's skills for their projects in Brussels. Gilles was also asked recently to design three contemporary residences in Russia.
Gilles' powerful and clear lines strike a delicate balance between contrasting with the immediate surroundings and effortlessly blending the structure into the wider area. "Our approach is always to be attentive to the context and the environment. While the character of Argill Architecture is depicted in each of our projects, we ensure that the end result will be fully integrated and will create a 'dialogue' with the city or the neighbourhood," Gilles points out.
When it comes to interior design, Argill Architecture's philosophy is to create a warm and pleasant atmosphere which allows fluidity throughout the spaces. Gilles says: "It is essential to create the right volumes and proportions that correspond to our clients' needs and requests. When designing interiors though, it is all about details, and I believe this is what makes Argill Architecture unique."
Web: argill.eu
Subscribe to Our Newsletter
Receive our monthly newsletter by email