Alsace, a land of medieval wonders
Text: Elodie Noël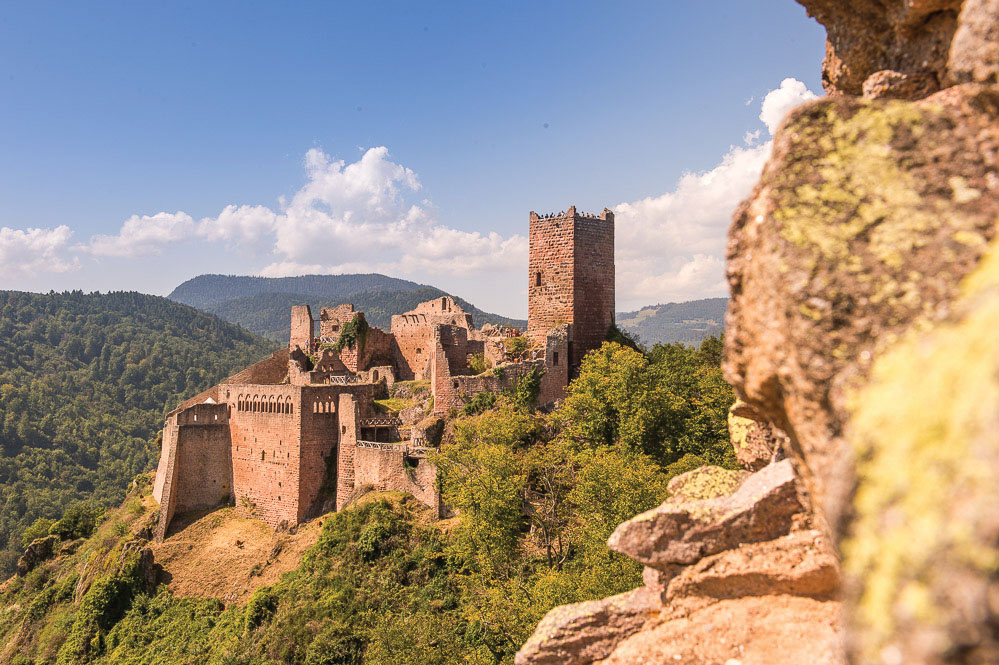 If you are looking to travel back to medieval times, the north-eastern region of France is home to countless castles eager to tell their part of the Alsatian history.
Famous for its wine route, its colourful half-timbered houses and its wonderful Christmas markets, Alsace is less known for its unique concentration of medieval castles. The region's rich and tumultuous past has resulted in an unparalleled network of castles, boasting a wide variety of architectural vestiges. From the north to the south of the region, wedged between the Vosges and the Black Forest, 80 sites are open for visits. "Alsace is one of the regions of Europe where you can find the greatest number of castles," says Guillaume Maciel, specialist in medieval castles at Alsace Destination Tourisme, the Alsatian Tourism Board. While most of these buildings are now in ruins, they are located in a preserved natural environment and can be reached through walkable paths.
Set up recently, the Trail 'Châteaux Forts d'Alsace' connects 80 castles on a 450 kilometre stretch, from the German Palatina to the Swiss border. Divided into 26 sections of 18 kilometres on average, the path brings you from ruin to ruin and allows hikers to combines nature and culture. "The discovery of castles through hiking is a new way of experiencing the Alsace region," Maciel adds. "The castles are mostly romantic ruins, which can offer a dreamy atmosphere at sunrise and sunset when a light mist surrounds them." The new adventurous trail allows you to visit two or three sites in a day, but it can also be the path of an extensive journey. "We have a passionate collaborator who did the 18 stages of the trail in full, it took him three weeks walking at a good pace!"
For visitors looking for a steadier experience, the Alsace Castle and Walled City Route gathers 24 sites that provide year-round entertainment. These castles are still in relatively good condition, with drawbridges, walls, towers and keeps, bringing you straight back to medieval times. The crowning glory of the region is no doubt the Haut-Koenigsbourg Castle – built in the 12th century, and reshaped in the 15th century, it was restored before the First World War by the last German Emperor, William II. "Easily accessible by car, this iconic site attracts 530,000 visitors a year, which makes it one of the most visited in France, right after the well-known castle of Chambord in the Loire Valley."
Also reachable by car, the Wangenbourg Castle, located half an hour from Strasbourg, is certainly worth a detour. So too is Ribeauvillé, a small wine-growing town in the south of Alsace with three castles, including Saint-Ulrich. Featuring a variety of architectural styles, joining Gothic, Renaissance and Romanesque characteristics, this castle is one of the most exciting sites in Upper Alsace: "These are all easily accessible castles, which can be visited over a weekend." On your way, don't forget to stop in a vineyard for some wine tasting, and enjoy the local gastronomy in one of the many restaurants serving Alsatian delicacies. If you are visiting the region with children, La Volerie des Aigles and its unique show with eagles, on the Kintzheim castle site, right beside the Haut-Koenigsbourg, is sure to be a hit with everyone.
Learn more about the castles of Alsace at www.alsaceterredechateaux.com (mainly in French). For more information about the Alsace region, you can go to www.visit.alsace
Subscribe to Our Newsletter
Receive our monthly newsletter by email