Alexandru Patrichi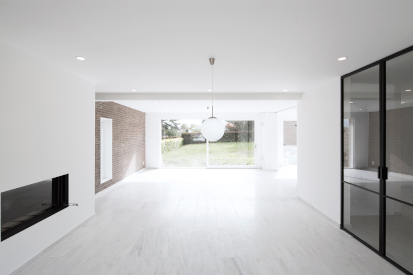 Pushing the limits of innovation
TEXT: NDÉLA FAYE | PHOTOS © ALEXANDRU PATRICHI
Alexandru Patrichi is brimming with fresh and dynamic ideas, specialised in architecture, interior design and consulting services. From a monastery to luxury apartments, Patrichi's portfolio is full of unique projects, showcasing the very best of Europe's young architecture talent.
Now based in the centre of Brussels, Patrichi was born and raised in a small mountain town in Transylvania, Romania. He has achieved a lot in a relatively short amount of time, and part of his uniqueness comes from his unwavering determination and endless curiosity that serves as his biggest source of inspiration.
Patrichi studied with Glenn Murcutt, a Pritzker Prize laureate, who was instrumental in teaching him the ins and outs of the trade. Murcutt once said that most of us do ordinary things, and therefore we should strive to do them in an extraordinary way – and these are words Patrichi aims to live and work by. "I never say no to a project, and I am always open to new things," he says. This has led him to various unusual projects, such as the Chiajna Monastery in Bucharest.
What sets Patrichi apart is his ability to undertake large projects as well as small ones, and take charge of the whole process: from the initial design stages to completion. "I believe a true architect should do everything from beginning to end. I want to be able to control everything, down to the smallest detail. The design process is a formative experience, and I am constantly learning and evolving; growing with the project," he says.
Among Patrichi's most notable works is the Greenhill Park Residence, in collaboration with Archi2000, which is currently under construction in Brussels. Another is the Greenwich Tower in New York, which combines offices, residential areas, a hostel and luxury accommodation.
Currently, the architect is working on a number of projects, including villas on the Belgian seaside, as well as a number of bigger apartment projects. He believes architecture has the ability to push the limits of innovation and to improve people's lives overall. It is essential for each project to be assessed in its own context; integrated in its surroundings and the local culture.
The architect's designs focus on durability and using natural materials whenever possible, as he believes humans are in their most natural state when surrounded by natural materials. "I believe architecture has the power to influence people's lives – and therefore change them for the better, and that is something I keep in mind with every one of my projects," he concludes.

Web: alexandrupatrichi.eu
Subscribe to Our Newsletter
Receive our monthly newsletter by email