A magical month of festivities in Reims
Text: Ariane Laurent-Smith | Photos: Ville De Reims/Moment Factory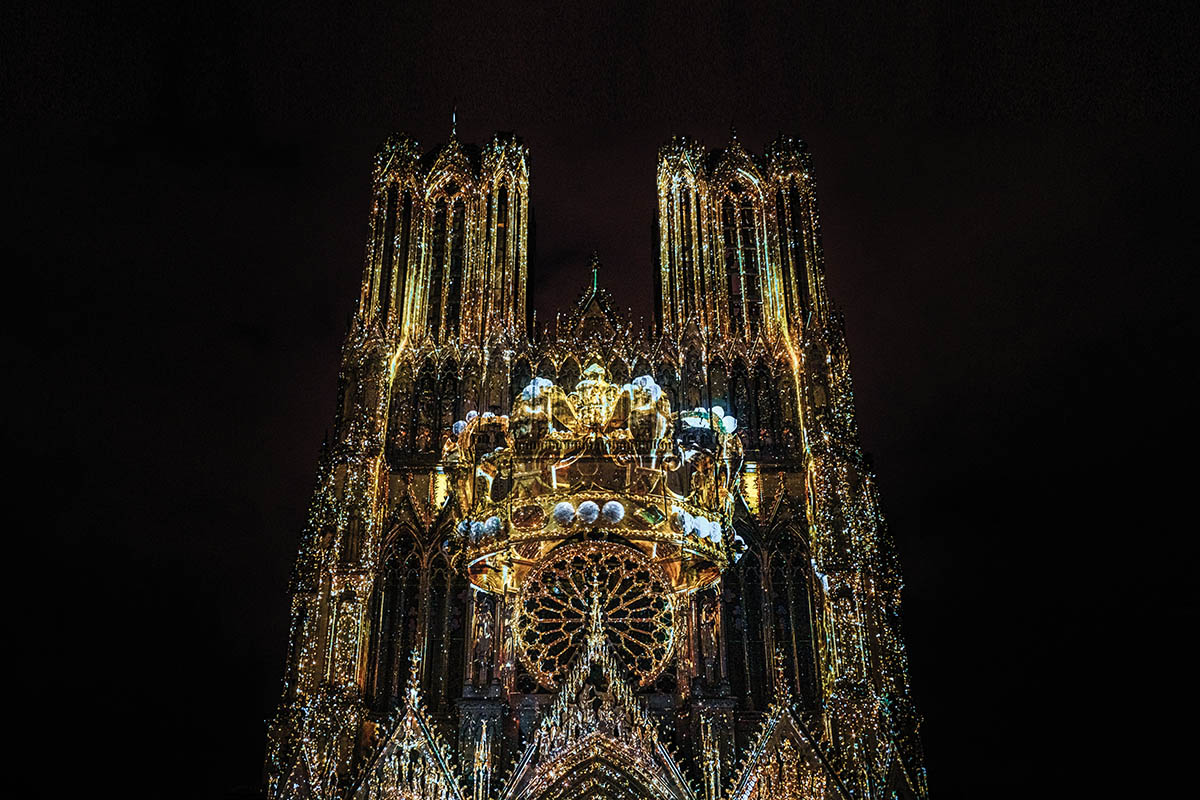 'This the season to explore the third-largest Christmas market in the whole of France, which has delighted visitors since 1996. With 145 decorated chalets, an Artisan Village and a Ferris wheel, don't miss the opportunity to visit Reims' bustling Christmas market – only 45 minutes from Paris!
From 22 November until 29 December, you can enjoy all of the attractions and amusements that are veritably illuminating the city of Reims. The court of the palace is dedicated to children's activities, including a robot show — and they can even take a ride on a little train through the market. The adults, meanwhile, can relax with a glass, or several, of the delicious local Champagne.
If you need to get a present for your family or even for yourself, visit the Village of Artisans jewellers, glassmakers, potters and embroiderers. Afterwards, you can take a ride on the 50-metre-tall Ferris wheel in the Place d'Erlon. Alternatively, if you are a fan of winter sports, you can skate on the gorgeous ice rink or slide down the 35-metre piste on a toboggan.
Get lost in the beautiful maze of the illuminated Christmas trees, wandering around the recently renovated park in Reims with your family and friends. Alternatively, you can try and find all the 3D light installations placed at key points throughout the city.
The market is held near the magnificent Reims Cathedral and the Palace of Tau. Both sites played a significant role in French history, as 33 French kings were crowned there. They are even featured on UNESCO's list of World Heritage Sites. For the Christmas market, the Cathedral will be illuminated by a spectacular installation called Regalia by Moment Factory, recalling the coronations of ages past.
Reims has excellent travel links with two major train stations at your disposal. It is only a 45 minute trip on the TGV from Paris and only half an hour from Roissy-Charles de Gaulle airport. There's also a lot of free parking available in the town if you're coming by car.
The Christmas market at Reims has something to please everyone, whether they love marvelling at intricate jewellery, getting active on the toboggan or simply drinking Champagne while admiring some beautiful illuminations.
Web: www.reims.fr
Subscribe to Our Newsletter
Receive our monthly newsletter by email