A Linéa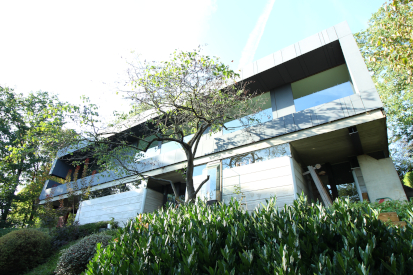 Architecture for today and tomorrow
TEXT: EDDI FIEGEL | PHOTOS © A.LINÉA
"Architecture is about reinvention and evolving materials," begins renowned architect Mikaël Leboutte. His work with firm A.Linéa, in Belgium, has fast been gaining a stellar reputation.
With his team of five fellow architects, Leboutte's practice, based in Huy, Wallonia, near Liège – just over an hour's drive southeast of Brussels – has become known for the creation of innovative, contemporary buildings across southern Belgium, be they private homes, apartment blocks or retail spaces. Leboutte is keen to create buildings which are not only contemporary and adhere to modernist principles but also environmentally friendly and energy efficient, and this plays a significant part in the choice of materials.
Leboutte originally graduated from the École d'Architecture San Luc in Liège in 2000 and, two years later, formed his own practice with two other young architects. Over the following few years, he gained immeasurable experience and expertise creating a large number of both private and public commissions.
In 2016, he formed Atelier Linéa (A.Linéa). "The core principle behind the company is the creation of buildings which are contemporary but which also reflect and reference the natural environment around them." He continues: "My architecture is strongly influenced by the work of Frank Lloyd Wright and Walter Gropius particularly in terms of their use of space. Another strong influence is the minimalism of Mies Van Der Rohe and his principle of 'less is more', as well as the functionality of Alar Aalto."
With every project, he takes the time to address the fundamental challenges posed by every commission, ensuring every aspect is entirely suited to the requirements of the brief, from the materials and style to functionality. Throughout the entire process, aesthetic harmony and balance remain the key focal points, as well as the principles of eco-friendliness.
"Our ultimate goal is to realise our clients' dreams and create buildings which are both harmonious and practical for today and sustainable for the future." He concludes: "'As French existentialist author and thinker André Gide famously once remarked: 'There are no problems. Only solutions.'"

Web: atelierlinea.be
Subscribe to Our Newsletter
Receive our monthly newsletter by email